Posted by Hymn | Filed under Music, WTF?
The Nappy Boy pulls a Ruben Studdard and apologizes for 2009. (wonder how many blogs said that) Shouts to musicvideocast.com on the spot. For the record I think Mr. PenderAss did his thing over successful. RevolveR is coming soon and I'm anticipating what the single is going to sound like. When the first spins come out everybody is going back to jocking auto-tune….so excited!
Tags: Drake, Nappy Boy, T-Pain, video
Posted by Goat | Filed under F**kery, Interview, Movies / T.V.
This is nothing but comedy my Dukes. I was about to go to sleep and I ran through OnSmash's video vault and peeped this interview with Ghost. He talks aboutthe forming of the Wu, being banned in several countries, The Dream being a "Lil' Nigga" and more.
Tags: DJ Whoo Kid, Ghostface Killah, r. kelly, Radio Planet TV, T-Pain, Wu-Tang
Posted by Goat | Filed under Albums, Beef, F**kery, Interview, Leaks, Misc., Music, Nuwz, Rumors
Here's Angies interview with Jay-Z going on now on Hot 97 Live. I'll continue to update the mp3′s as they come out and after the jump you can stream live. That part I totally swagger jacked from Nation, don't kill me. LOL) Props to Miss Info, Nahright & Rap Radar
Part 1 | Part 2 | Part 3 | Part 4 x Part 5 via 2DB
Tags: Angie Martinez, Autotune, Blueprint 3, Drake, Jay-Z, Kanye West, No I.D., Soulja Boy, Summer Jam, T-Pain
Posted by Goat | Filed under Concert, History, Movies / T.V., Music
This is the only reason I wouldv'e went to Summer Jam. I decided to stay in the crib and watch a bunch of movies. Here's Hov taking over Summer Jam and making it his show. Anyone who went on after this I know you're tight. I'm not going to even post the other footage. My dude Big Homie got that covered. Can't front I wonder if T-Pain second guessed walking on stage during Hov's set. After the jump there's a higher quality version so you can see how the crowd rocked out. Love the part at 3:30 when Hov says "Good Ridance!" LOL
Via YN
Tags: Autotune, Giants Stadium, Hot 97, Jay-Z, Summer Jam, T-Pain
Posted by Goat | Filed under F**kery, History, Politricks, Smh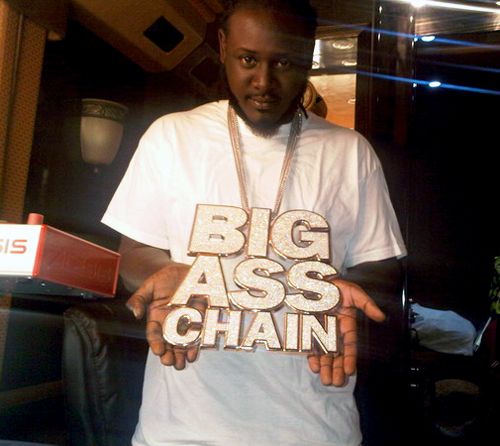 After staring at this picture, shaking my head, laughing, and taking in the buffonery of this magnificent piece I decided I would post it. T-Pain has decided to up the Ante and knock Lil' Jon's chain out the World Record spot. By also doing this he made me think of so many different things. I started scanning through the internet for more pictures of T-Pain's chain. After hitting TSS I stumbled on this in depth interview with T-Pain's Father how (his view) Akon has cause there relationship to become strained. This is textbook in the industry on how people who come up together get pulled apart due to the many people who stand to make millions off an artist. But we all at some point get blinded by the glamor, glitters and gold (word to Nasir). You can tell T-Pain was a little insecure about the ignorant purchase to release this statement.
Tags: Akon, Autotune, Lil' Jon, Ludacris, T-Pain
Posted by Goat | Filed under Movies / T.V., Music
Tags: Birdman, Glasses Malone, Rick Ross, T-Pain
Posted by CarterG | Filed under F**kery, Misc., Music, Smh, WTF?
Here's a street banger from Brooklyn native, Magg-1. Fresh off of his untitled album but he's from BK so I'll give him the benefit of a doubt until further notice.
Download link after the jump
Tags: Let's Talk Money, Magg-1, T-Pain
Posted by CarterG | Filed under F**kery, Misc., Movies / T.V., Music, Smh
No need to set this one up for you. As long as you have some sort of radio or have been to a party recently you know the song. Gonna turn my computer on mute now.
*Side Note* Am I the only one that thinks T-Pain didn't save this song the way Maino probably would've liked???
Tags: All The Above, Maino, T-Pain
Posted by CarterG | Filed under Misc., More Fyah!!!, Music, WTF?
T-Pain is collaborating with damn near EVERYONE nowadays. I have to say though, this one is fire (sorry Goat I know you're against the Blue Eyed Soul). Enjoi the mellowness of auto tune from 2 of the biggest artists in the game right now.
Tags: I Can't Believe It remix, Justin Timberlake, T-Pain
Posted by Goat | Filed under F**kery, Music
The only vocoder stuff I ever really dug was from Zapp. I can't front I do dig the T-Pain tracks but that's where it stops. The Vocoder and Swagger both need to be thrown in the lake of fire. Fuck Kanye for thinking it makes his tracks sound better. Lil' Weezy sounds like he's under water. So please, stop the fuckery and leave it alone. If you can't sing you just cant, that's why we invented rap music.
Tags: Fat Joe, Kanye West, Lil' Wayne, P Diddy, Roger Troutman, T-Pain, T-Wayne, Zapp