Posted by Hymn | Filed under Homo Eroticism, Music, Throwback
Have to show love to Mystikal. I know he's been out for awhile but he isn't getting the love he is supposed to. He went to jail for a videotape nobody has seen and lyrics from "Pussy Crook". Be careful of what you fabricate in your lyrics because they will show that God isn't the only one that can judge you.
Check out Pha-real in the video. In 2000 he was wearing what some rappers were wearing this summer. Talk about fashion forward. Go 'head wit your homo swag!
Tags: Mystikal, Pharrell, Throwback Thursday
Posted by Hymn | Filed under Albums, Music
So Pharell was the producer of the decade and success wise and longevity I can co-sign to that. This was a Fam-Lay, Slim Thug, Jadakiss track but you know how beats go. Not only beats but Star Track artist release dates and albums being put on hold. (What happened to Roscoe P. Coldchain?)
You remember Boo Bonic from Philly's Most Wanted? If not there is a video after the jump to help you remember Dukies. Boo now works with some California artist Rich Hil. Check out Nolimos.com its very interesting to say in the least.
Audio clip: Adobe Flash Player (version 9 or above) is required to play this audio clip. Download the latest version here. You also need to have JavaScript enabled in your browser.
Tags: Boo Bonic, NoLimos, Pharrell, Philly's Most Wanted, RichHil
Posted by Trose | Filed under Albums, Movies / T.V., Music
Clipse reaches out to the Bause for 16…
Tags: Pharrell, Rick Ross, The Clipse
Posted by Hymn | Filed under Leaks, Music
I'm not sure how go-go this is but I'll call up the D.M.V. homies to find out. They hate Wale out there. Mr. Folarin let another one loose via his twitter. I thought chillin' was the lead off single off Attention:Deficit but this seems to be it. Don't how I feel about the record and Wale doesn't take kindly to negative opinion.
INHIBITIONS
Audio clip: Adobe Flash Player (version 9 or above) is required to play this audio clip. Download the latest version here. You also need to have JavaScript enabled in your browser.
Tags: Attention:Deficit, Chillin, Contemplate, D.C., D.M.V., Inhibitions, Pha-real, Pharrell, Rhianna, Roc Nation, single, Wale
Posted by Goat | Filed under Concert, History, Movies / T.V., Music
Last night Jay-Z created history once again at his Answer the call concert at Madison Square Garden in NYC. A sold out stadium rocked out for two hours to classics and newbies. I didn't get the front seat but FUSE provided the show for all the home viewers. Can't deny Hov is the King of this rap thing.
Rip Props: Still Dre
Tags: Beyonce, FUSE, Jay-Z, John Mayer, Kanye West, Madison Square Garden, Memphis Bleek, Pharrell, Puff Daddy, Rihanna, Roc Nation, Santigold, Swizz Beatz, The Blueprint 3
Posted by Trose | Filed under Art, Events, Interview, Movies / T.V.
At Art 40 Basel, Galerie Emmanuel Perrotin presented a 6-foot Takashi Murakami sculpture, made in collaboration with the U.S. record producer and designer Pharrell Williams. The object is titled The Simple Things. It features a glass-fiber, steel and acrylic head based on Murakami's cartoon-inspired signature character Mr. Dob. In its mouth you find objects which are the essentials in Pharrell Williams' everyday life: A can of Pepsi, a cup cake, a sneaker and bottle of Johnsons baby lotion. These objects are encrusted with 26′000 diamonds and gems.
In this interview with Ute Thon (Art Magazin), Pharrell Williams talks about how cooperation came about, the idea behind the sculpture, his interest in art and design, the artists and designers he admires, and his own design works. Art 40 Basel 2009, VIP Preview, June 9, 2009.
Spotted at "Nah Right"
Tags: Pharrell
Posted by Goat | Filed under Albums, Leaks, Music
I bumped this jam countless times today and I forgot to post it. Aww shucks it's here for you my Dukes. Til' The Casket Drops coming September.
Download "I'm Good" – The Clipse Feat. Pharrell
Tags: Chad Hugo, KAWS, Pharrell, Re-Up Gang, The Clipse, The Neptunes
Posted by Goat | Filed under Interview, Magazine Cover, Magazines, Movies / T.V., Music
Billboard chopped it up with Pharrell to talk productions, working with Usher and more.
Tags: Billboard Magazine, N.E.R.D., Pharrell
Posted by Goat | Filed under Events, Interview, Politricks
Pharrell Williams speaks on the state of the record label, Susan Boyle, and where he feels music is going. Listen on as Rest In Beats' hangs out at the 2009 Billboard/AdWeek Music & Advertising Conference in NYC.
Tags: AD Week, Billboard Magazine, Pharrell, Susan Boyle
Posted by Goat | Filed under Nuwz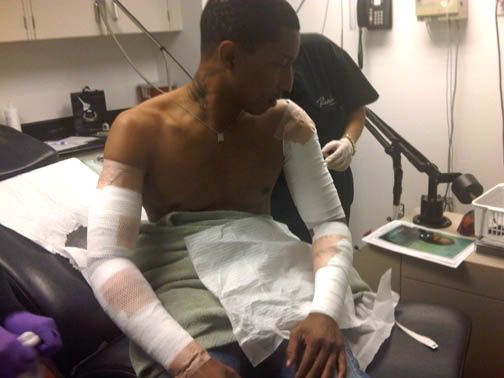 I remember a while back Pharrell was talking about spending some bookoo bucks to remove several of his tattoos. I honestly thought it was all talk but low and behold he actually went through with it.
Via BBC