Posted by Hymn | Filed under Music, Singles, Video
King Mez & Khrysis drop off another video for their duet EP "King's Khrysis". Video provided by ONSmash.
Tags: Khrysis, King Mez, OnSmash, The King's Khrysis
Posted by Hymn | Filed under Albums, Music
North Carolina's Rain drops off his "Street Album" The Magic Hour. I've heard good things about him and know he doubles as a producer. The artwork is very very interesting. Hopefully you don't make brash decisions while you listen to this. Remember, you are good christians.
Left the trailer to the mixtape after the jump. Props to OnSmash for both the mixtape and trailer.
Download The Magic Hour
Tags: OnSmash, Rain, The Magic Hour
Posted by Hymn | Filed under More Fyah!!!, Music, Video
This is supposedly off an upcoming mixtape. It has an older look to it though. Why didn't he go with Creative Control like in his last video's? Politics. I'm not saying the direction was bad on this, I'm just saying it's different.
Of course Shout to Onsmash
Tags: Big K.R.I.T., Def Jam, OnSmash
Posted by Hymn | Filed under Mighta Missed Monday's, Music
Nickelus F has been rapping for 10 years. I couldn't imagine doing anything for 10 years with moderate success but homie has been doing it. With a resume that reads Def Jam, The Source and 106 and Park its hard to believe anybody important has taken much notice. Its been a long road and hopefully that moderate success turns into moderatly big pay checks. Check out his Season Premiere EPK and first single (courtesy of OnSmash) after the jump. Nickelus F – someone you mighta missed.
Tags: Mighta Missed Monday, Nickelus F, OnSmash
Posted by Hymn | Filed under Leaks
Spotted over at Onsmash I support Wiz, as you can tell, so I was happy to see something else from him today. This track is a lot of emo/rock-n-roll but you can expect something spacely from him. This can be a song on the Miami Vice soundtrack but Wiz gets a pass. This time.
Audio clip: Adobe Flash Player (version 9 or above) is required to play this audio clip. Download the latest version here. You also need to have JavaScript enabled in your browser.
Tags: B.A.R., Burn After Rolling, Emo, OnSmash, Thrill, Wiz Khalifa
Posted by CarterG | Filed under Art, Bullet Bullet!!!, Freestyles, Leaks, Misc., Mixtapes, More Fyah!!!, Music, Throwback, WTF?
Man oh man have we been waiting for this to drop. Thanks to the homies over @ OS, now we have it. Joell Ortiz + classic hip-hop instrumentals + Over 30 tracks = PURE SUMMER HOTNESS!!!! I'm gone…..
Tracklisting & Download link after the jump
Tags: DJ Green Lantern, Joell Ortiz, OnSmash
Posted by Goat | Filed under F**kery, Interview, Mixtapes, Movies / T.V., Music
The Brooklyn Boy Joell Ortiz talks with Culture IV VI about his new mixtape "Covers The Classic" hosted by DJ Green Lantern dropping exclusively on OnSmash.
Yowwa!!!
Tags: Joe Budden, Joell Ortiz, OnSmash
Posted by Goat | Filed under Albums, Concert, Events, Movies / T.V., Music
I was waiting for Legend to release the whole show before I posted it. Here's the show Jizzle threw in NYC before the release of The Recession. In this clip Jeezy performs "I'm So Hood (Remix), J.E.E.Z.Y., Bottom Of The Map, My Hood, Bang, Can't Tell Me Nothing (Remix) and Hood Nigga (Remix)". My dude Bugatti Bredrin says it a classic LP. If you got an hour in you my Dukes this is a post to enjoy. Ayyyyyyyyy!!!!
Tags: CTE, Def Jam, Fabolous, Lil' Kim, Maino, OnSmash, The Recession, Young Jeezy
Posted by Goat | Filed under Leaks, Mixtapes, Music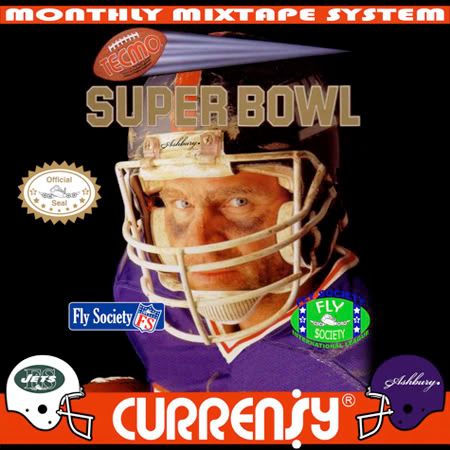 New Orleans other hot spitter and Fly Society remember brings you his new mixtape today. Gotta love the homage being paid with the first real football game addiction. Track list and link after the jump.
Via OnSmash
Tags: Curren$y, Fly Society, Freestyle, OnSmash
Posted by Goat | Filed under Interview, Movies / T.V.
David Banner in a mixtape shop in East New York. Nuff Said.
Via OnSmash