Posted by Goat | Filed under Leaks, Mixtapes, Music
Now I am not really a fan of Jimmy Fallons late night show but boy does he treat Hip Hop good. I am more of a Conan O'Brien fan but he does cool segments sometimes (XBOX Natal demo for my Gizmodo dudes). Anyway, the thank the DJ Heat for putting the tracks together. This mix a collection of mash ups performed on Late Night with Jimmy Fallon. Nothing like The Roots holding down the instrumentals. Track list after the jump.
Via 2DBZ
Tags: 50 Cent, Black Star, Clipse, Goodie Mob, Ludacris, Public Enemy, Q-Tip, Raekwon, Wale
Posted by Fresh | Filed under Movies / T.V., Music


World Premiere for Lil' Scrappy…I've been wondering what happen to him. But this is big way to come back, with a collabo with Luda and production by J.U.S.T.I.C.E. League.
Tags: Addicted To Money, J.U.S.T.I.C.E. League, Lil' Scrappy, Ludacris
Posted by Goat | Filed under F**kery, History, Politricks, Smh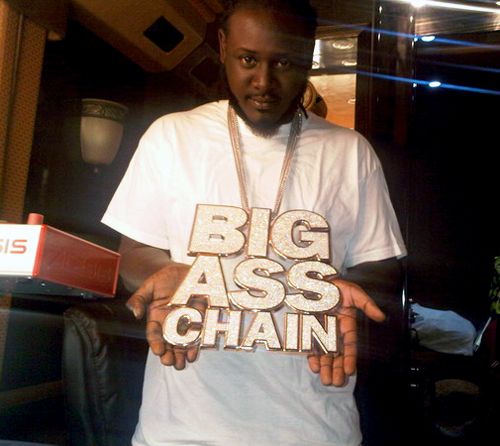 After staring at this picture, shaking my head, laughing, and taking in the buffonery of this magnificent piece I decided I would post it. T-Pain has decided to up the Ante and knock Lil' Jon's chain out the World Record spot. By also doing this he made me think of so many different things. I started scanning through the internet for more pictures of T-Pain's chain. After hitting TSS I stumbled on this in depth interview with T-Pain's Father how (his view) Akon has cause there relationship to become strained. This is textbook in the industry on how people who come up together get pulled apart due to the many people who stand to make millions off an artist. But we all at some point get blinded by the glamor, glitters and gold (word to Nasir). You can tell T-Pain was a little insecure about the ignorant purchase to release this statement.
Tags: Akon, Autotune, Lil' Jon, Ludacris, T-Pain
Posted by Goat | Filed under F**kery, Movies / T.V.
My favorite radio duo Star & Buc get back to there old tactics and smash Ludacris plaque. Don't know the back story on this but he was "disappointed" in Theater of The Mind. After the jump see Star let some shots off at some of you favorite musicians plaques.
Tags: Buc Wild, Ludacris, Star
Posted by Goat | Filed under Albums, F**kery
So I've been trying to listen to this album since yesterday. I get a message from my dude Hiroller asking what I thought about Officer Ricky's latest effort. Instead of transcribing I'll just give it to you raw. And the song of the convo is from Jamaican Reggae artist Cocoa Tea's "Good Life". Bawse!!!
Tags: 50 Cent, Big Punisher, Deeper Than Rap, Def Jam, Ludacris, Maybach Music, Notorious B.I.G., Papoose, Rick Ross, T.I.
Posted by Goat | Filed under All Good A Week Ago, Beef, Interview
Once again Pardon Me for being away in the mountains again my Dukes. On my hiatus from the net I see Luda teamed up with Jay and NaS for a track off Theater Of The Mind. Turns out Jaz-O wasn't too happy about some lyrics Hov spit on it. I mean really my Dukes some times you have to let things go. Looks like dreams that shouldv'e been given up a LONG time ago.
Tags: DJ Premier, Jay-Z, Ludacris, NaS, Theater Of The Mind
Posted by CarterG | Filed under Bullet Bullet!!!, Leaks, Misc., More Fyah!!!, Music, WTF?
Me trying to even give a description of how good this is is a waste of my precious time. You see the names, so you already know. Too bad the song is tagged more than I care for but I gotta give it to you my dukes. Will update when it's available. Let me know what you think my dukes.
Tags: I Do It For Hip Hop, Jay-Z, Ludacris, NaS, Theater Of The Mind
Posted by CarterG | Filed under Leaks, Misc., More Fyah!!!, Music, WTF?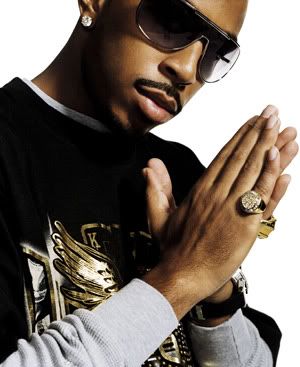 This album is shaping up to be on my MUST BUY list for the end of '08. Every track has a different vibe but still they work towards the same goal, tying it into the title of the album, Theater of the Mind. Luda recruits the help of Chi-Town's own Common & BK's greatest director, Spike Lee (how could he pass down the chance to be on a track named after one of his acclaimed movies???). Take a trip down this psychological roller coaster ride & enjoy the effects my dukes.
Tags: Common, Do The Right Thang, Ludacris, Spike Lee
Posted by CarterG | Filed under Misc., Movies / T.V., Music
This shows the creative genius behind the track called "Everybody Hates Chris" off of that "Theater of the Mind" album. Sounds like it's gonna be some fire & after that track "Circulate" that Cannon did on Jeezy's album, I know it's gonna knock. Check for the special guest appearance by my dude C-Murder.
Tags: Don Cannon, Ludacris
Posted by CarterG | Filed under Interview, Misc., Movies / T.V., Music
Mr. Thanksgiving made a pass thru NYC & decided to hit up StreetSweeper Radio with DJ Kay Slay, a.k.a. Slap Your Favorite DJ. He speaks about his grind coming up, his future doing rap, pursuing acting & his passion for this game we call Hip-Hop.
Parts 2 & 3, as well as Luda's PSA for "Theater of the Mind", after the jump.
Courtesy of BOBO
Tags: Best Of Both Offices, DJ Kay Slay, Ludacris, StreetSweeper Radio, Theater Of The Mind