Posted by Goat | Filed under F**kery, History, Politricks, Smh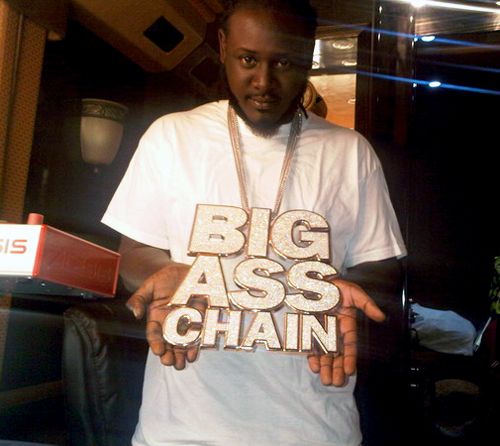 After staring at this picture, shaking my head, laughing, and taking in the buffonery of this magnificent piece I decided I would post it. T-Pain has decided to up the Ante and knock Lil' Jon's chain out the World Record spot. By also doing this he made me think of so many different things. I started scanning through the internet for more pictures of T-Pain's chain. After hitting TSS I stumbled on this in depth interview with T-Pain's Father how (his view) Akon has cause there relationship to become strained. This is textbook in the industry on how people who come up together get pulled apart due to the many people who stand to make millions off an artist. But we all at some point get blinded by the glamor, glitters and gold (word to Nasir). You can tell T-Pain was a little insecure about the ignorant purchase to release this statement.
Tags: Akon, Autotune, Lil' Jon, Ludacris, T-Pain
Posted by CarterG | Filed under F**kery, Misc., Music, WTF?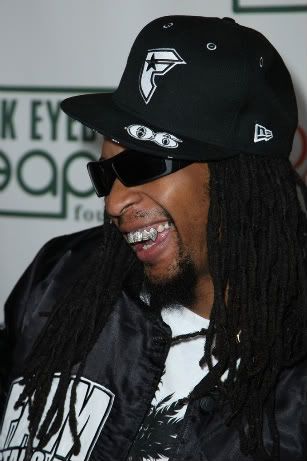 Someting to bring you outta your funk on this dreary Thursday evening. Pretty obvious Swizz did the beat too. Kinda sounds like he's starting to recycle beats if you ask me.
Link after the jump
Tags: I Do, Lil' Jon, Snoop Dogg, Swizz Beatz
Posted by CarterG | Filed under Bullet Bullet!!!, Events, Misc., More Fyah!!!, Nuwz, WTF?
One of our generation's greatest philanthropists, Russell Simmons, is holding a Hip-Hop jewelry auction for his charity, Rush Community Affairs. He partnered with Phillips de Pury & Company to get some of your favorite rappers pieces available to the general public (or whoever can get together about $100 grand by October 1st). Of course you'll need to get tickets but that shouldn't be a problem.
Spotted over @ Complex
Extra pics & the rest of the story after the jump
Tags: Biggie, Biz Markie, Crown Jewels, Hip Hop, Lil' Jon, Missy, Pharrell, Russell Simmons, Slick Rick, Tupac
Posted by Goat | Filed under Movies / T.V., Music
When is Lil' Jon gonna stop using that 1 sound for his beats?!?!?!
Tags: Lil' Jon, Shawty Putt, Too $hort