Posted by Goat | Filed under Leaks, Music, Sports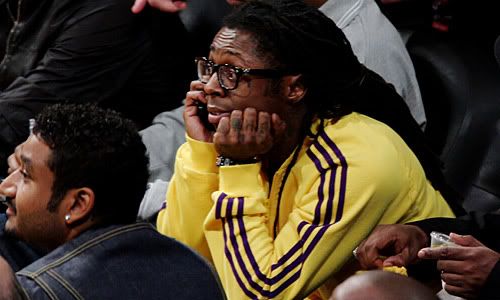 This is definitely something me and Dwayne can agree on. All you Lebron Stans need about 3 more years to argue the factoid. Anyway here's Lil' Wayne love signals to Kobe Bryant. Enjoy!
Tags: Kobe Bryant, Lakers, Lil' Wayne
Posted by Goat | Filed under F**kery, Movies / T.V., Music
In celebration of the NBA Finals starting tomorrow I decided to post this f*ckery. I never though Kobe did it but frankly this is some girl cried wolf shit. The shame came over her towards the end. Shorty was buggin. Funny none the less. And oh yea Lakers in 6 like Shake & Meka says. Excerpt from the wiki bout the case.
According to Detective Winters's "Affidavit in Support of Arrest", Faber added something to her story when examined by a nurse on July 2.[12] She told the nurse that she gave Bryant oral sex. Faber later explained to Detective Winters that Bryant made her kiss his penis after the intercourse by pulling her head down with both hands. She stated that there was nothing else that she could recall. Winters noted that Bryant said ejaculating on his partner's face was his "thing". Faber's rape examination revealed "vaginal trauma" and that her g-string had a very small brown mark on the crotch that was identified as dried blood. Detective Winters also noted that Trina McKay, the resort's night auditor, said she didn't look upset when she came back from Bryant's room, and didn't believe Faber was telling the truth.
Tags: Freestyle, Katelyn Faber, Kobe Bryant, Rape
Posted by Fresh | Filed under Documentaries, Movies / T.V., Sports


Spike Lee is teaming up with ESPN Films to document the game's best player Kobe Bryant. Since he is a die hard Knicks fan I don't if would be consider a traitor or not but I will tune in. Saturday – May, 16th 2009 on ESPN @ 7:30pm
Tags: Kobe Bryant, Kobe Doin' Work, Spike Lee