Posted by Hymn | Filed under Albums, Music, Singles, Video
Why aren't they giving Nate Dogg his feature credit?
Tags: Akon, Detox, Dr. Dre, Nate Dogg, Republican Single, Snoop Dogg
Posted by Hymn | Filed under Freestyles, Leaks
Another gem from Curt@!n$. The internets don't even deserve so much all in one week. I joke, I joke. I kid, I kid.
Download Kush
Tags: *CurT@!n$*, Detox, Dr. Dre, Kush
Posted by Hymn | Filed under Albums
So this is rumored to be the first single from the good Doctors Detox album. If you believe that I have some waterfront property in Montana for sale. Just for you. With so much anticipation and back and forth why do people still care about this Detox album. Those were my thoughts prior to listening to Kush. This shit right here nigga, this shit right here! This that shit that makes you proud to be a gangsta.
Don't act like you don't hear Nate on that muthafucking hook. Take it back to 1999/2000 on you muthafucka's. Damn this shit makes you want to rock a hockey jersey and spit into camera's.
Download Kush
Tags: Akon, Detox, Dr. Dre, Nate Dogg, Republican Single, Snoop Dogg
Posted by Hymn | Filed under Music, Video
Do you remember all the words to this joint right here? I'm sure I didn't know what the lyrics meant in middle school but I loved the way the girls worked it. I most likely tried to bag it up with no success while I yelled NO DIGGITY at my leisure. Chauncey was darker than a mug though wasn't he? Peep Nefu da Don's moms! Crazy how the world changes ain't it?
Tags: Blackstreet, Dr. Dre, Nefu da Don, Queen Pen, Teddy Riley, Throwback Thursday
Posted by Hymn | Filed under Albums, Music, Throwback
Throwback Thursday brings you your favorite white boy. The Dr. Dre produced single featured on The Marshall Mathers LP. This wasn't Eminem at his best but Slim Shady was at his most flamboyant! We may never fully appreciate the genius of Marshall Mathers but lets face it, " nobody wants to see Marshall no more, they want Shady I'm chopped liver"
Tags: Dr. Dre, Eminem, Marshall Mathers LP, Slim Shady
Posted by Hymn | Filed under Albums, History, Music, Reviews
So the internet is going crazy for the second installment of The Purple Tape. Raekwon's 4th album is a sequel to his first and is being hailed as progression! After 14 years he decides to release OB4CL II with a plethora of features. I didn't grow up on The Purple Tape so I wasn't impressed by OB4CL II. It was tales of cocaine and hood life over slow-paced beats. While that was great in 1995 this is 2009. I'm not a Wu enthusiast and this review will give you the other side of the coin. We don't need to bring hip hop back we need to move it forward.
Tags: Dr. Dre, Ghostface Killah, J Dilla, OB4CL, OB4CL II, Raekwon, ruff ryders, RZA, The Chef, The Purple Tape
Posted by Trose | Filed under Movies / T.V., Music
Tags: 50 Cent, Dr. Dre, Eminem
Posted by Fresh | Filed under Ad, Leaks, Movies / T.V., Music


So as I was watching one of my favorite shows The First 48 on A&E, I came upon a Dr. Pepper commercial featuring Dr. Dre. Of course seeing the Doctor made me do a double take, especially being in Dr. Pepper commercial. Of course like any true business man there is product placement with his headphones. But word on the skreet is you can also hear a beat from the infamous detox album. Hmmmm…makes you wonder huh!
Tags: Detox, Dr. Dre, Dr. Pepper
Posted by Goat | Filed under F**kery, Interview
DJ Vlad did a phone interview with Aftermath's new signee Slim Da Mobsta. Dude is very excited to be signed to Dr. Dre's label, very excited. I personally don't know much about him but I'll bump some music this weekend. I think some not so sublimnals were aimed at Bishop Lamont who is currently on ice when it comes to release dates and such. Interview after the jump.
Addedum: Below the interview I added a classic from Slim (let my dude B. Money tell it) called "10 Gat Commandments". Now back to some other work my Dukes.
Tags: 50 Cent, Aftermath, DJ Vlad, Dr. Dre, Eminem, Slim Da Mobsta
Posted by Goat | Filed under Leaks, Music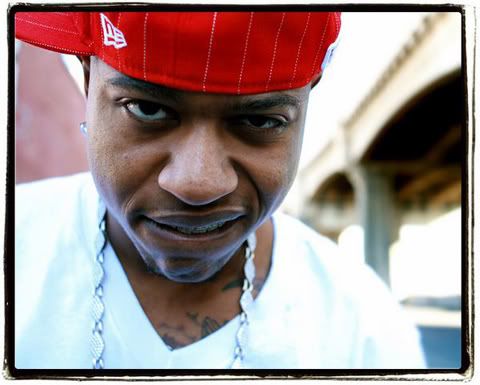 This dude Ya Boy is going in for real. Wonder why the West don't claim him. Real Talk it's obvious he's better than the Game. Wouldn't it be funny if 50 gave him the cosign. Here he is tearing over Dre's classic. Maybe even the doc should call but I'm sure a different kind of hate would come through.
Via King Shake
Tags: Dr. Dre, Precise, The Chronic, Ya Boy