Posted by Goat | Filed under Albums, Beef, F**kery, Interview, Leaks, Misc., Music, Nuwz, Rumors
Here's Angies interview with Jay-Z going on now on Hot 97 Live. I'll continue to update the mp3′s as they come out and after the jump you can stream live. That part I totally swagger jacked from Nation, don't kill me. LOL) Props to Miss Info, Nahright & Rap Radar
Part 1 | Part 2 | Part 3 | Part 4 x Part 5 via 2DB
Tags: Angie Martinez, Autotune, Blueprint 3, Drake, Jay-Z, Kanye West, No I.D., Soulja Boy, Summer Jam, T-Pain
Posted by Goat | Filed under Leaks, Music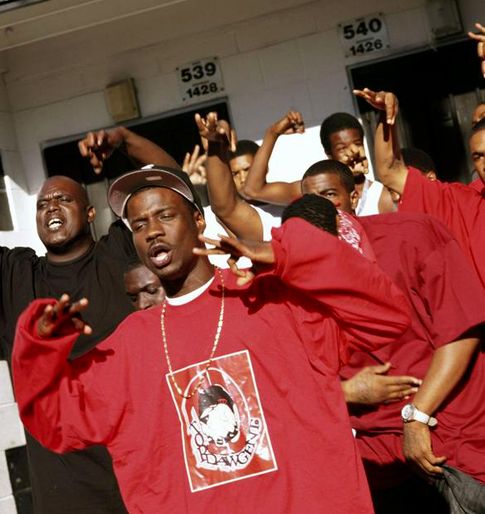 Jay Rock felt he was the Blood needed on this track. Here he is taking his stab at Hov's "D.O.A." track. Link after the jump.
Tags: Autotune, Jay Rock, Jay-Z, No I.D.
Posted by Goat | Filed under Concert, History, Movies / T.V., Music
This is the only reason I wouldv'e went to Summer Jam. I decided to stay in the crib and watch a bunch of movies. Here's Hov taking over Summer Jam and making it his show. Anyone who went on after this I know you're tight. I'm not going to even post the other footage. My dude Big Homie got that covered. Can't front I wonder if T-Pain second guessed walking on stage during Hov's set. After the jump there's a higher quality version so you can see how the crowd rocked out. Love the part at 3:30 when Hov says "Good Ridance!" LOL
Via YN
Tags: Autotune, Giants Stadium, Hot 97, Jay-Z, Summer Jam, T-Pain
Posted by Goat | Filed under F**kery, History, Politricks, Smh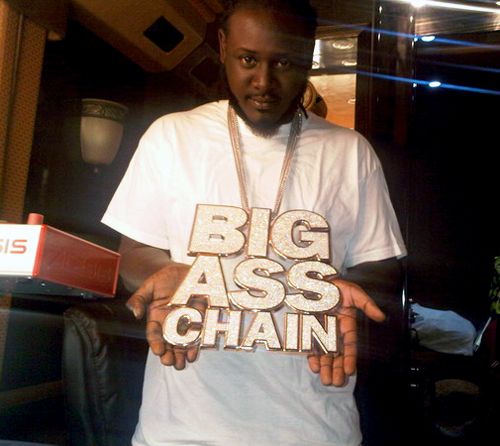 After staring at this picture, shaking my head, laughing, and taking in the buffonery of this magnificent piece I decided I would post it. T-Pain has decided to up the Ante and knock Lil' Jon's chain out the World Record spot. By also doing this he made me think of so many different things. I started scanning through the internet for more pictures of T-Pain's chain. After hitting TSS I stumbled on this in depth interview with T-Pain's Father how (his view) Akon has cause there relationship to become strained. This is textbook in the industry on how people who come up together get pulled apart due to the many people who stand to make millions off an artist. But we all at some point get blinded by the glamor, glitters and gold (word to Nasir). You can tell T-Pain was a little insecure about the ignorant purchase to release this statement.
Tags: Akon, Autotune, Lil' Jon, Ludacris, T-Pain
Posted by Goat | Filed under F**kery, Movies / T.V., Music
Who would of thunk it that Jay Smooth would be the one to take a comical stance for Autotuners. A little fun video to enjoy and laught at.
Update: Jay Smooth just added a link for you to download the track
Tags: Autotune, illdoctrine
Posted by Goat | Filed under Albums, Interview, Leaks, Movies / T.V., Music, Nuwz
Friday Night at Allido records once more with J. Cole and the whole Dreamville family eager to hear Funkmaster Flex & Mister Cee debut Jay-Z's new single "D.O.A. / Death of Autotune". Later on that night, well morning we finally got around to do an in depth interview about his highly anticipated mixtape The Warm Up. We previewed a bunch more tracks that did or didn't make TWU. He also let us see the rest of the trilogy shot by BBGUN, which I can definitely say is something you don't want to miss when it comes out. Part 1 of "The Warm Up To The Warm Up" coming Tuesday Dukes.
Related: Flex & Mister Cee talk all types of f*ckery courtesy of NR via RR
Tags: Autotune, Dreamville Records, Funkmaster Flex, Hot 97, J. Cole, Jay-Z, Mister Cee, Roc Nation
Posted by Goat | Filed under Albums, Leaks, Music
Guess they couldn't wait til' the weekend. YN comes through in the clinch with the CDQ Dirty version courtesy from Young Guru himself. This song is the trizzack for the weekend. Summer Jam, Habana Outpost & Brooklyn Museum Tonight. Who's coming with Me?!?!?!?!
Produced by NO I.D.
Download D.O.A. (Death Of Autotune) CDQ Dirty – Jay-Z
Related: Jay-Z's "D.O.A. (Death of Auto-Tune)": What Does It All Mean?
Tags: Autotune, Blueprint 3, Jay-Z, No I.D., Roc Nation