Posted by Hymn | Filed under Misc., Sports, Video
Do you remember this? I was THE man on NBA 2k. Chris Smoov wouldn't make a video of our game–trust that! The 1st round of the playoffs are better than I imagined but nothing is more exhilarating than a buzzer beater in 2k…run that game back.
Tags: NBA, NBA2k, Throwback Thursday
Posted by Hymn | Filed under Misc., Sports, Video
Tom Brady sits down with ESPN and reminisces about his long wait to hear his name in the 2000 NFL draft. He gets emotional while relaying the story even though it's been 11 years since he's been drafted. I'm no Tom Brady fan, nor am I a Patriots fan but I'm a fan of the story. He was picked in a round where the players chosen make the practice team at best, now he's the highest paid quaterback in the NFL. You see the Quarterbacks picked ahead of him? Chris Redmen, Tee Martin, Chad Pennington, Marc Bulger and Spergon Wynn. Yea, I never heard of Spergon Wynn before either. For Brady to go from that emotional low, just happy he doesn't have to sell life insurance, to being the face for a billion dollar franchise is remarkable. I'm glad for that boy — cheers to success!
Tags: NFL Draft, Patriots, Tom Brady
Posted by Hymn | Filed under More Fyah!!!, Sports, Video
To show her appreciation to her 115k+ twitter followers, Rosa Acosta sent this viral. Now, normally this isn't what we really do around these parts but it would just be a disservice if I didn't post this. I didn't do it for me, I did it for us. Lastly I'd like to iterate: I'm no pervert, just a purveyor of fine things. It's important to be limber. I never knew how beneficial it could be, for us.
Tags: 115k, followers, Rosa Acosta, Stretching, twitter
Posted by Hymn | Filed under Misc., Sports
So, now Brooklyn born, Carmelo Anthony is a New York Knick. This acquisition is good for the Knicks this season. In the final 25 games they'll score hella points and let opponents score hella points but it will make for exciting basketball. The Knicks team now is a far cry from the yesteryear Knicks whose major draws were Eddie Curry and Stephon Marbury. To think in 2 seasons the Knicks went from the laughing stock of the NBA to the envy of all GM's abroad. I applaud Isiah Thomas Donnie Walsh and The Dolan family. You've turned the Knicks into contenders. Can't ask for more than that, unless you are a New Yorker.
Read the rest of this entry »
Tags: Carmelo Anthony, NBA, The Knicks, the lockout
Posted by Hymn | Filed under Albums, Music, Sports, Throwback
This is by far my favorite Cam album. There are certain artists who get hit with the sophmore jinx but not Cam'Ron. It's often argued that Confessions of Fire was his finest album but I disagree. On Confessions he was humble, as humble as a nigga born from Harlem can be, but S.D.E. he let the cocky talk. He was the best rapper EVER and he didn't have to prove it to you. If you didn't know you were stupid and if you did it was obvious. This is where the trend setter flaunted his swagger. This was also the beginning of the Diplomat movement. A lot of people know that but what what many people don't know is this is also where Cam threw his first rocks at Jay-Z. Yep Let Me Know was directed at the Jigga Man. S.D.E. showcased Cam's ability to make a mainstream hit without a major feature. Something Confessions did not do. What Means the World to You? If you ask me it will always be Sports, Drugs and Entertainment-until the arraingment.
Revisit S.D.E.
Tags: Cam'Ron, Diplomats, Jim Jones, Throwback
Posted by Hymn | Filed under Sports, Video
Have you ever seen such a clamor for a regular season game? Not even between the best teams in their division, just mid-level teams at best at this point in the season. LeBron comes back to Cleveland and I'm sure the stadium will roar with boo's when he is introduced. I'm not sure how the fans will react during the game but when "The King" comes out he will get a vehement response.
I saw this over at Sekou Smith's blog,Valkryne Productions put together a nice piece.
Tags: Cleveland, Lebron James
Posted by Hymn | Filed under Sports, WTF?
Check your own team you'll always be number 2
Tags: Lebron James
Posted by Goat | Filed under Interview, Mixtapes, Music, Sports
Last Friday night the PMD crew (well not really a crew just Me, Trose & Carter G went through to Allido Records to check Fayetteville's own J. Cole. With some Grey Goose, Coronas (My Fave), Stella Artois in tow we bumped The Warm Up (which is certified the mixtape of the year) and eventually got around to do an interview. Cole himself gives you the meaning behind The Warm Up, his aspirations for legacy in the rap game and more. We broke this interview into four quarters like ball. First Quarter above, 2nd after the jump.
Side Note Cole will be leaking a track today that will be on The Warm Up called "Heartache".
Produced by Elite
Tags: Dreamville Records, Fayetville, J. Cole, Jay-Z, North Carolina, Roc Nation, The Warm Up
Posted by Goat | Filed under Leaks, Music, Sports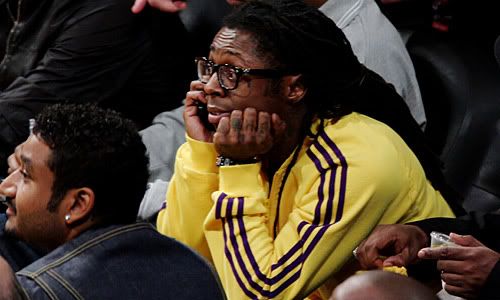 This is definitely something me and Dwayne can agree on. All you Lebron Stans need about 3 more years to argue the factoid. Anyway here's Lil' Wayne love signals to Kobe Bryant. Enjoy!
Tags: Kobe Bryant, Lakers, Lil' Wayne
Posted by Goat | Filed under F**kery, Movies / T.V., Sports
Star continues his defiant campaign to educate others on the greatest professional basketball player of all time! What's your opinion?
Tags: Basketball, Star & Buc Wild