Posted by Hymn | Filed under Music, Smh
Audio clip: Adobe Flash Player (version 9 or above) is required to play this audio clip. Download the latest version here. You also need to have JavaScript enabled in your browser.
Here is the verse all the hipsters wanted on Aston Martin Music. Not quite a Maybach but it wasn't intended to be. Hopefully you understand the photo is Paris Morton.
Teflon Don out July 20th!
Got a photo of Ms. Morton before the ass shots. Sorry Drizzy sometimes "it takes to long to be right"
Tags: Drake, Paris Morton, Rick Ross, Teflon Don
Posted by Trose | Filed under Interview, Movies / T.V., Smh
Its hard out here indeed!
Posted by Fresh | Filed under F**kery, Music, Smh, WTF?


A picture has a 1,000 words, what is Jay-Z's face saying to you?
Tags: 2009 MTV Music Awards, Alicia Keys, Jay-Z, Lil' Mama
Posted by Goat | Filed under F**kery, Movies / T.V., Music, Smh, Throwback
Not really a throwback my dudes but it took us back to an era when Jeezy's music would not make Billboard top 10, 20, shit…1000. Here's a track when he first made the transition to Young Jeezy. But the flow is more reminiscent of his original moniker, Lil' J. After the jump there's a link to Jeezy's first album Lil' J, Thuggin' Under The Influence.
Tags: Lil' C, Lil' J, Sonny Spoon, Young Jeezy
Posted by Trose | Filed under comedy, Movies / T.V., Nuwz, Smh
Star drops his piece on the situation between Nas and Kelis…
Tags: Kelis, NaS, Star & Buc Wild
Posted by Trose | Filed under comedy, Movies / T.V., Smh
Itsthereal.com
Tags: Itsthereal.com, Kelis, NaS
Posted by Trose | Filed under F**kery, Interview, Movies / T.V., Smh
I never want to go back Innnnnnn! Cant confine the wave! "NR"
Tags: Max B.
Posted by Goat | Filed under F**kery, History, Politricks, Smh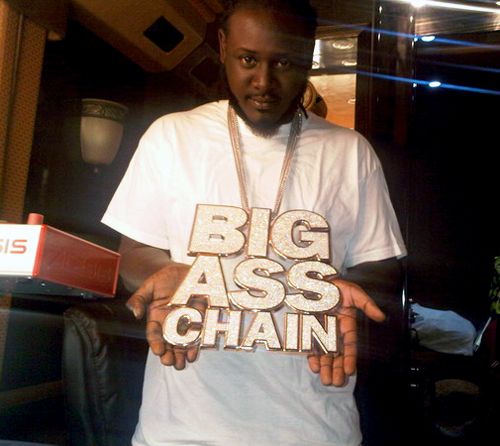 After staring at this picture, shaking my head, laughing, and taking in the buffonery of this magnificent piece I decided I would post it. T-Pain has decided to up the Ante and knock Lil' Jon's chain out the World Record spot. By also doing this he made me think of so many different things. I started scanning through the internet for more pictures of T-Pain's chain. After hitting TSS I stumbled on this in depth interview with T-Pain's Father how (his view) Akon has cause there relationship to become strained. This is textbook in the industry on how people who come up together get pulled apart due to the many people who stand to make millions off an artist. But we all at some point get blinded by the glamor, glitters and gold (word to Nasir). You can tell T-Pain was a little insecure about the ignorant purchase to release this statement.
Tags: Akon, Autotune, Lil' Jon, Ludacris, T-Pain
Posted by Goat | Filed under Beef, F**kery, Interview, Movies / T.V., Smh
Now I love the "beef" in Hip Hop and hopefully some real lyrical jabs are thrown. But I can't help but sigh because it always seems like Joe Budden says something then plays victim somehow in the situation. Anyway the ever eloquent Miss Info
and my dude Exec Nick teamed up for a series of interviews to talk about the current fiasco.
In this first episode, Joe speaks on "rival emcees," and actually listens to Method Man and Busta Rhymes' comments from a few weeks ago….Then Joey warns of a lyrical reaction that he has in the stash….

I have a response to him, but my response gets under peoples skin…when I talk it bothers people, and I have a response, that if I said, he would really wanna put hands on me.
In the words of Joey "Ughhhhhhhhhhh"
Tags: Busta Rhymes, Executive Nick, Fight Klub, Joe Budden, Method Man, Miss Info, VIBE
Posted by CarterG | Filed under Bullet Bullet!!!, Concert, F**kery, LOL, Misc., More Fyah!!!, Movies / T.V., Music, Smh, WTF?
This is crazy. As the fuckery continues, the dukes continue to come out of hiding. Which one of your favorite rappers can you say will do this while performing??? NONE that's who!!! Can anyone say ensuing lawsuit???
Tags: Pitbull