Posted by Hymn | Filed under History, Music
And God said he should send his one begotten son
to lead the wild into the ways of the man
Follow me; eat my flesh, flesh of my flesh
Posted by Hymn | Filed under History, Music, Throwback
Now L.L. might have been "actin tough" but even Kool Moe Dee couldn't persuade me that boy wasn't B.A.D. L.L. was at the top of the charts with Bigger and Deffer. Even though he had questionable lyrics L.L. showed you could show your softer side and how many checks you'd deposit if you did so. Dropping out in the 10th grade for an opportunity to do Radio isn't the best decision but Uncle L turned it into a gold situation. After 20 years and a multitued of movies later L.L. is a hip hop legend. Recognize it or not but the Ripper is alive.
Don't worry ladies I have those ballad's you miss if you follow the wormhole. Read the rest of this entry »
Tags: Goat, L.L. Cool J, Throwback Thursday
Posted by Hymn | Filed under History, Misc.
Interview provided courtesy of BestofBothOffices.
Tags: Best Of Both Offices, Grind Music Radio, Just Blaze
Posted by Goat | Filed under Concert, History, Movies / T.V., Music
Last night Jay-Z created history once again at his Answer the call concert at Madison Square Garden in NYC. A sold out stadium rocked out for two hours to classics and newbies. I didn't get the front seat but FUSE provided the show for all the home viewers. Can't deny Hov is the King of this rap thing.
Rip Props: Still Dre
Tags: Beyonce, FUSE, Jay-Z, John Mayer, Kanye West, Madison Square Garden, Memphis Bleek, Pharrell, Puff Daddy, Rihanna, Roc Nation, Santigold, Swizz Beatz, The Blueprint 3
Posted by Hymn | Filed under Albums, History, Music, Reviews
So the internet is going crazy for the second installment of The Purple Tape. Raekwon's 4th album is a sequel to his first and is being hailed as progression! After 14 years he decides to release OB4CL II with a plethora of features. I didn't grow up on The Purple Tape so I wasn't impressed by OB4CL II. It was tales of cocaine and hood life over slow-paced beats. While that was great in 1995 this is 2009. I'm not a Wu enthusiast and this review will give you the other side of the coin. We don't need to bring hip hop back we need to move it forward.
Tags: Dr. Dre, Ghostface Killah, J Dilla, OB4CL, OB4CL II, Raekwon, ruff ryders, RZA, The Chef, The Purple Tape
Posted by Goat | Filed under History, RIP
This news is extremely sad, show respect my Dukes. The King of Pop Music has passed on.
Tags: Michael Jackson, RIP
Posted by Goat | Filed under Concert, History, Movies / T.V., Music
This is the only reason I wouldv'e went to Summer Jam. I decided to stay in the crib and watch a bunch of movies. Here's Hov taking over Summer Jam and making it his show. Anyone who went on after this I know you're tight. I'm not going to even post the other footage. My dude Big Homie got that covered. Can't front I wonder if T-Pain second guessed walking on stage during Hov's set. After the jump there's a higher quality version so you can see how the crowd rocked out. Love the part at 3:30 when Hov says "Good Ridance!" LOL
Via YN
Tags: Autotune, Giants Stadium, Hot 97, Jay-Z, Summer Jam, T-Pain
Posted by Goat | Filed under F**kery, History, Politricks, Smh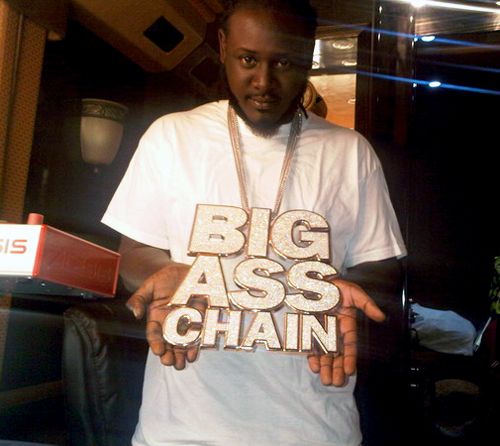 After staring at this picture, shaking my head, laughing, and taking in the buffonery of this magnificent piece I decided I would post it. T-Pain has decided to up the Ante and knock Lil' Jon's chain out the World Record spot. By also doing this he made me think of so many different things. I started scanning through the internet for more pictures of T-Pain's chain. After hitting TSS I stumbled on this in depth interview with T-Pain's Father how (his view) Akon has cause there relationship to become strained. This is textbook in the industry on how people who come up together get pulled apart due to the many people who stand to make millions off an artist. But we all at some point get blinded by the glamor, glitters and gold (word to Nasir). You can tell T-Pain was a little insecure about the ignorant purchase to release this statement.
Tags: Akon, Autotune, Lil' Jon, Ludacris, T-Pain
Posted by Goat | Filed under History, Interview, Movies / T.V., Sports
Mike Tyson sat down with Charlie Rose to talk about his new documentary, Tyson. Interesting interview my Dukes. Also on the show: Mike Krzyzewski (Coach K) & James Toback. Rose asks Mike one of the most revealing questions during the show:

CRose: What do you see when you look in the mirror today? M.Tyson: Pretty overt question, I don't know variations. Sometimes I see a guys that's broken. Sometimes I see a guys that's capable of doing a lot things but afraid to make those steps because hes afraid that he's gonna become famous again and he's gonna be in the spotlight again. And then I feel like I'm gonna be a target again. And that frightens me.
Tags: Charlie Rose, Cus D'Amato, Don King, Mike Tyson
Posted by CarterG | Filed under F**kery, History, Interview, Misc., Movies / T.V., Smh, WTF?
In this interview, Loso speaks on how he met Tahiry when she was like 17 & how she smashed the homie (pre Joe Budden). Wonder if this will cause any animosity between the 2 former Clue proteges???