Posted by Hymn | Filed under The Readers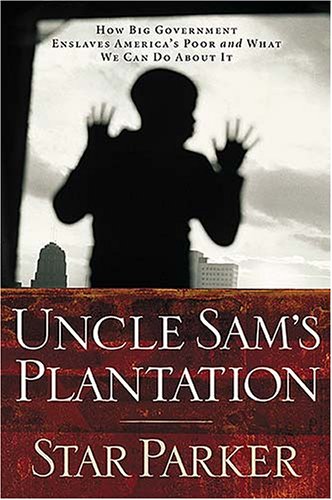 America has two economic systems: capitalism for the rich and socialism for the poor. This double-minded approach seems to keep the poor enslaved to poverty while the rich get richer. Let's face it, despite its $400 billion price tag, welfare isn't working.

The solution, asserts Star Parker, is a faith-based, not state-sponsored, plan. In Uncle Sam's Plantation, she offers five simple yet profound steps that will allow the nation's poor to go from entitlement and slavery to empowerment and freedom. Parker shares her own amazing journey up from the lower rungs of the economic system and addresses the importance of extending the free market system to this neglected group of people. Emphasizing personal initiative, faith, and responsibility, she walks readers toward releasing the hold poverty has over their lives.
Lupe is probably busy with finishing the album and promo for it so #thereaders book club has been on hiatus. I'm here to pick up where that movement has left off. Reading books is imparative to ones growth as a decent citizen of society. Only after that may you take the knowledge learned and bring change to your environment. Curse words are cool to recite but after the Ciroc is finished and the blackout is over we need something of substance. Expand your mind.
I'll be posting a new book every two week and have a ustream discussion on saturday's. This book will be discussed this Feb. 5th @ 5 EST., with or without your attendance.
Tags: Lupe Fiasco, poverty, Star Parker
3 Responses to "Uncle Sam's Plantation – Star Parker"
Tweets that mention Pardon Me Duke » Blog Archive » Uncle Sam's Plantation – Star Parker -- Topsy.com Says:
January 21st, 2011 at 11:06 pm

[...] This post was mentioned on Twitter by Goat, Carter G. Roebling, HymnPMD, HymnPMD, HymnPMD and others. HymnPMD said: @iChaseDreams Uncle Sam's Plantation – Star Parker http://www.pardonmeduke.com/2011/01/21/uncle-sams-plantation-star-parker/ #Thereaders [...]

Pardon Me Duke » Blog Archive » Words I Never Said – Lupe Fiasco Says:
February 2nd, 2011 at 1:11 am

[...] Join #thereaders [...]

asicsgelcumulus10 Says:
September 21st, 2011 at 10:54 am

hmm decent ahaha we favor this unique selected
Leave a Reply