Posted by Hymn | Filed under Albums, Mixtapes, Music, WTF?
Just to prove everybody is a rapper I want you to check out my man Donald Glover. Don't know who Donald Glover is? Well he's Troy from NBC's Community. (Thursday's @ Eight) Doubling as Childish Gambino Mr. Glover has released three studio albums all for free release, Culdesac being his latest. Glover's prospective on him rapping is "Not every rapper is from the streets. Jay-Z's story is not my story and I say that in the album. I love Jay-Z, but I can't tell that story". Culdesac is primarly composed/produced by Gambino and Ludwig Goransson. The mixtape is very eclectic much in the vain of Wiz Khalifa and Wale's Mixtape about Nothing. The Huffington Post proclaimed "Glover thinks he's on the highest creative level possible, a la Tupac, and maybe in his own way he is". Check out the stand out track Do Ya Like via youtube.
Download Culdesac
Tags: Childish Gambino, Culdesac, Emilio Rojas, NBC's Community
Posted by Hymn | Filed under Misc., Read A Book N*gga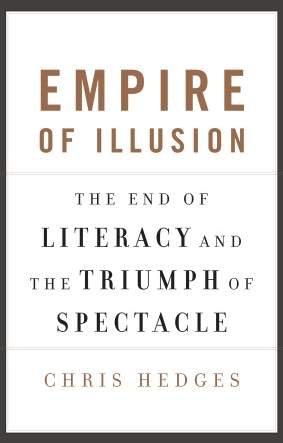 Just to show it's all love I'll shine some light on Lupe Fiasco's Book Club. In the club you have a week to read a book and Lupe's first offering is Chris Hedges Empire of Illusion. Empire of Illusion is a shattering meditation on American obsession with celebrity and the epidemic of illiteracy that threatens our cultural integrity. Reporting on such phenomena as professional wrestling, the pornographic film industry, and unchecked casino capitalism, Hedges exposes the mechanisms used to divert us from confronting the economic, political, and moral collapse around us. Empire of Illusion shows us how illiteracy and the embrace of fantasy have impoverished our working class, allowed for the continuance of destructive public policy, and ushered in cultural bankruptcy.
Buy the book : Empire of Illusion
There is a Chris Hedges lecture at New York's New School given in December of last year after the jump. I warn you, the idea's offered in the lecture aren't for everyone and are very VERY controversial. Watch if you have an open mind and/or an hour and 20 minutes.
Tags: Amazon, Chris Hedges, Empire of Illusion, Lupe Fiasco, Read a Book
Posted by Hymn | Filed under Movies / T.V., Music, Singles
Extra late with this one by today's standards but I give's no shits. Wiz released a video for his first single with Atlantic. Say Yeah was a big record for him so let us pray his Atlantic situation isn't like his Warner Brothers one. Let's hope it doesn't turn into an epic Fiasco either. NO SHOTS!
Tags: Atlantic, Pittsburgh, Rostrum Records, Wiz Khalifa