Posted by Goat | Filed under F**kery, History, Politricks, Smh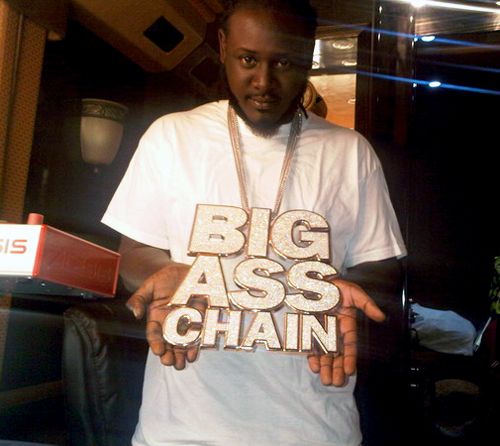 After staring at this picture, shaking my head, laughing, and taking in the buffonery of this magnificent piece I decided I would post it. T-Pain has decided to up the Ante and knock Lil' Jon's chain out the World Record spot. By also doing this he made me think of so many different things. I started scanning through the internet for more pictures of T-Pain's chain. After hitting TSS I stumbled on this in depth interview with T-Pain's Father how (his view) Akon has cause there relationship to become strained. This is textbook in the industry on how people who come up together get pulled apart due to the many people who stand to make millions off an artist. But we all at some point get blinded by the glamor, glitters and gold (word to Nasir). You can tell T-Pain was a little insecure about the ignorant purchase to release this statement.
10lbs. 197kts. Very very real I don't know what fake feel like.$410,000. Hola señor recession proof. With 32 cars.Oldest child 5 and already got 4 million in her own account. I don't do dumb shit like this till I know the fams good. So don't judge me from what I buy.Judge me from what I do. Cuz it's so many artists that put them self before their family. but thanx yo"
It's very clear T-Pain is aware of poverty around him and that this purchase was ignorant in itself. To defend it by saying his child has 5 million in her own account is pointless. A spade is a spade nonetheless. Who am I to judge because if it was me it wouldn't be that big but the purchase would still be ignorant none the less. Guess somehow T-Pain fell victim to Big Chain Records
Audio clip: Adobe Flash Player (version 9 or above) is required to play this audio clip. Download the latest version here. You also need to have JavaScript enabled in your browser.
Tags: Akon, Autotune, Lil' Jon, Ludacris, T-Pain
One Response to "The Many Degrees of T-Pain's Big Ass Chain"
S. Mathis Says:
June 8th, 2009 at 3:29 pm

Though the idea of him spending more then I can pay for a house on the chain irritates on some levels, I aint mad at him for a few reasons: 1) He obviously knows better from the insecurity I read in the statement he released, so hopefully I can assume that he actually has his other business in order, 2) he is a performer so the chain serves as a performance piece, 3) he has the money, and finally 4) chances are JAY-Z has a less outlandish watch that cost twice the price but no one knocks him since we cant identify it.
Leave a Reply