Posted by CarterG | Filed under Bumboclaat, F**kery, Misc., Mixtapes, Music, Smh, WTF?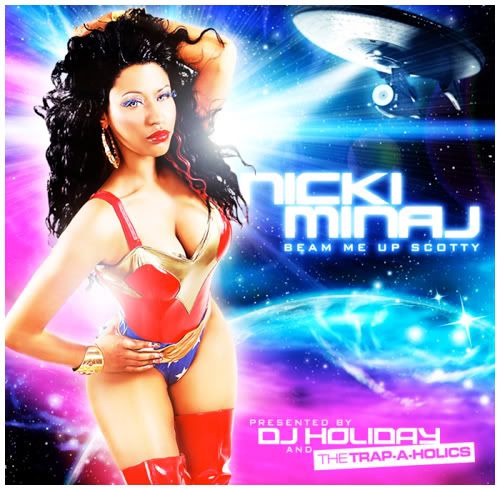 Not like I care to even intro this, so I'll make it short & sweet. Hosted by DJ Holiday & The Trap-A-Holics, a bunch of features from Young Money & Southern artists, that's about it. Shout out to my dude Ricky Blaze though, I see he made it on there on a track. That will be the ONLY track I listen 2. Spotted over @ 2DB.
Tracklisting & Download link after the jump
1. Intro
2. I Get Crazy feat. Lil' Wayne
3. Itty Bitty Piggy
4. Kill Da DJ
5. Mind On My Money feat. Rihanna x Brinx x Busta Rhymes
6. Nicki Speaks
7. Slumber Party feat. Gucci Mane
8. Shopaholic feat. Bobby Valentino x Gucci Mane x Sandmand x Lil Joe
9. Go Hard feat. Lil' Wayne
10. Nicki Speaks
11. Best I Ever Had feat. Drake
12. Handstand feat. Shanel
13. Keys Under Palm Trees
14. Get Silly
15. Easy feat. Gucci Mane x Rocko
16. Psycho feat. Jae Millz x Gudda Gudda
17. Nicki Speaks
18. Envy
19. Can Anybody Hear Me
20. Still I Rise
21. I Feel Free feat. Ron Browz x Red Cafe x Ricky Blaze
22. Outro
*****Bonus Track
Beam Me Up Scotty (Mixtape) – Nicki Minaj
Tags: Beam Me Up Scotty (Mixtape), DJ Holiday, Nicki Minaj, The Trap-A-Holics
2 Responses to "'Beam Me Up Scotty (Mixtape)' – Nicki Minaj"
Mixtapes Says:
September 17th, 2010 at 8:23 am

This mixtape really helped her blow up. She is now killing it.
Nicki Minaj mixtapes

Nicki Minaj sex tape Says:
May 20th, 2011 at 5:59 pm

im around 19, at university and i am having a hard time! I study biology and when I'm not bored with school im usually out dancing and following my best celeb Nicki Minaj!
Leave a Reply