Posted by Goat | Filed under Albums, F**kery
So I've been trying to listen to this album since yesterday. I get a message from my dude Hiroller asking what I thought about Officer Ricky's latest effort. Instead of transcribing I'll just give it to you raw. And the song of the convo is from Jamaican Reggae artist Cocoa Tea's "Good Life". Bawse!!!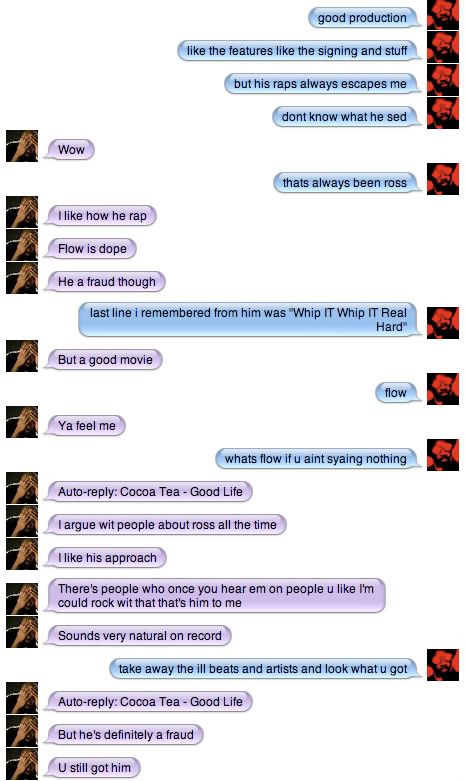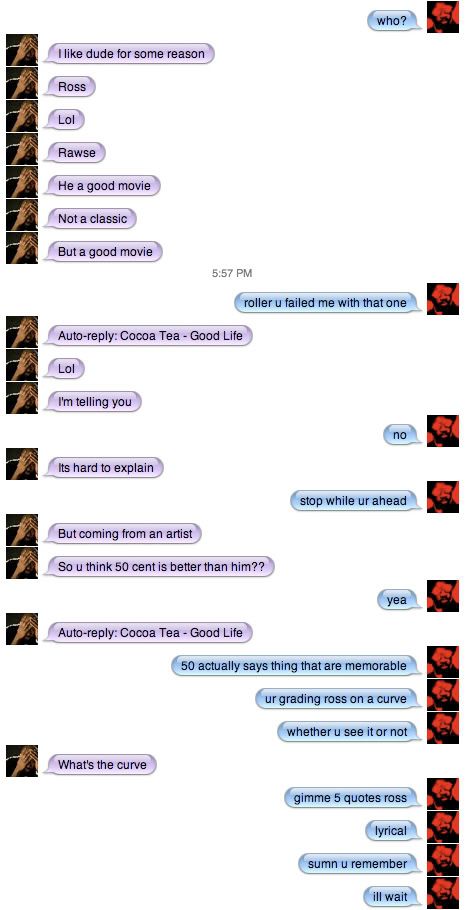 All I can say is….

Tags: 50 Cent, Big Punisher, Deeper Than Rap, Def Jam, Ludacris, Maybach Music, Notorious B.I.G., Papoose, Rick Ross, T.I.
3 Responses to "Deeper Than iChat"
Curtisss!!! Says:
April 15th, 2009 at 8:08 pm

Comedy, and I'll actually read the whole thing. This what keeps hip hop breathing the area to agree to disagree. 50 still my man 150 grand and Ross is a good movie… a good fictional movie!

Randy Da Hater from Utica Ave Says:
April 15th, 2009 at 10:08 pm

I couldn't get pass the first track on Officer Ricky album. He wants to write metaphors, but fails at it big time. He needs to let some one ghost write. Did you hear him on Ludacris album, how wack did he sound!?

P.S. Undercover cops can't Rap

Joker Says:
April 17th, 2009 at 1:03 am

Amazing! Not clear for me, how offen you updating your http://www.pardonmeduke.com.
Leave a Reply