Posted by Fresh | Filed under Movies / T.V., Music


Lockwise reppin' Da Island (Strong Island, oh ok Staten Island) blessed Fashion Hurtz with a freestyle. Lockwise is also going to be on the upcoming Just Listen 2 My Music pt. 2 mixtape.
Check out more Lockwise here.
Tags: fashion hurtz, lockwise, staten island
Posted by Goat | Filed under Albums, Leaks, Mixtapes, Music, Throwback
Brooklyn has always bred emcees ever so often that manage to conquer several different mediums at once. Dante Smith aka Mos Def is one of the Brooklynites I'm talking about. I remember first picking up Black On Both Sides back in '02. My dude Ben put me on but I stole my brothers own (still got it). Every day as I rode the iron horse I'd go through several songs but "Speed Law" was the one that I listened to when I needed my "Rappity Rap". Mos killed it from beginning to end racing through the track and I don't mean Bone Thugz style. The way he'd play with words and metaphors was simply a way to show off his lyrical skill effortlessly. I bet many a emcee heard this and took another look at the backpacker on Rawkus. Classic Joint!
Got you shook like a fault line / Come all shine and get tarnished / Brooklyn got your pay roll garnished / They form a huddle / Whisper like they want trouble / I melt the ice grills into rainwater puddles / Make the proud-hearted leave on the humble / Black steel in the hour / Assemble my skill form my power / My poems crush bones into powder / You mumble like a coward / I'm Mos Def, you need to speak louder / SUPER HEROOOOS!"
P.S. His new trailer that Coodie & Chike did inspired the artwork, enjoy!
Tags: Black On Both Sides, Mos Def
Posted by Fresh | Filed under Albums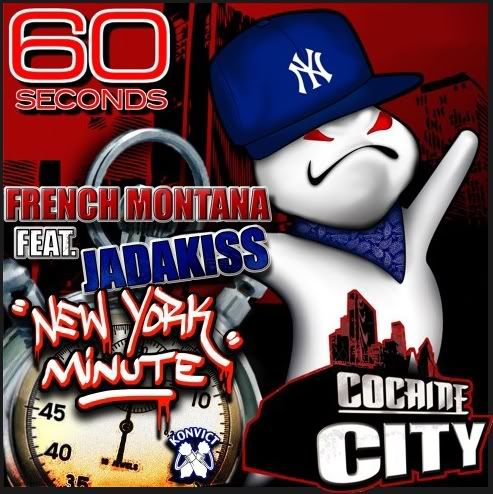 The more I listen to French, the more I feel him. Jada is a guaranteed 15 & 10 every night (excuse the sports reference but March Madness is about end).
Audio clip: Adobe Flash Player (version 9 or above) is required to play this audio clip. Download the latest version here. You also need to have JavaScript enabled in your browser.
Download "New York Minute"
Tags: French Montana, Jadakiss, minute, new york
Posted by Trose | Filed under Contest, Events, More Fyah!!!, Movies / T.V., Music

MARCH MADNESS – TONIGHT 8PM from Executive Nick on Vimeo. My dude Executive Nick invited the team down to the last Fight Knight and we were well entertained. Tune in tonight at 8pm to see the full clip.
Tags: Battle Rap, Fight Klub, Hip Hop
Posted by Fresh | Filed under Movies / T.V., Music

"Triknosis" MEGABONE from The ICU on Vimeo.

Check out this new video from my dudes Meagbone directed by ICU Lab. The song is on some conspiracy theory, take over your brain and show you the truth type tip.
Tags: icu lab, megabone, triknosis
Posted by Goat | Filed under Albums, Leaks, Mixtapes, Movies / T.V., Music
WOW, that's all I can say. If I had "The Brick" on tape this would be the reason the tape popped right here. Rik and the Three 21 team unearthed this unreleased video of "125 Part 2 / Fresh Air" from the archives. Mr. YOWW!!!! went in on the track. Pay attention to every word (and visual haha!). And now a word from Rik.

Here is an unreleased video from the Three/21 Archives of Joell Ortiz's "125 Part 2 (Fresh Air)" which we shot a long ass time ago at a studio in Brooklyn. It was one of those moments where we tried to freestyle a concept and it turning into over 5 minutes of straight rapping into the camera. Not much else going on here but Joell is that rare breed of artist who has the charisma and energy to rap for that long, break into a smile, and love every minute of it. That's Hip Hop people"
Tags: Joell Ortiz, Rik Cordero, Three 21 Media
Posted by Goat | Filed under Movies / T.V., Music
Here's some behind the seen footage of J. Cole talking about his meeting with Hov and previewing "Grown Simba" for the world. Look out for more from the NC native this year. Cole Coming!
Tags: Dreamville Records, J. Cole, Roc Nation
Posted by Goat | Filed under F**kery, Leaks, Mixtapes, Movies / T.V., Music
This comdey pops in my inbox this morning from Boosie Bad Azz. Here he is obviously inebriated acting a fool on camera to one of his new joints off his "Superbad – The Return Of Mr. Wipe Me Down" mixtape. Funny little factoid though is Mr. Wipe Me Down was Foxx, being that it was his single but was remixed to put Boosie & Webbie on it. That's when you deal with label politics (smh). Cover and link after the jump.
Tags: Lil' Boosie
Posted by Goat | Filed under F**kery, Interview, Movies / T.V.
Nore, Max B., French Montana & Roxy Reynolds (Bugatti What Up!) do alot of clowning and sh*t talking in the lobby of the W. Hotel in NYC. Max then takes full stabs at Kanye out the blue.

We Don't Do Kanye. I Heard Alot Of Gay Rumors About Kanye. Heard He Takin D*ck In Your Butt. We Not Doin That Wave"
Tags: French Montana, Max B., NORE, Roxy Reynolds