Posted by Goat | Filed under Documentaries, Interview, Movies / T.V., Music
My dude B. Money shot me this trailer for the documentary "The Rink". Now I don't know that much about the culture of that there was one till I saw ATL. Typical New York close mindedness my Dukes. Luckily they will be having a screening in NYC during the NY International Independent Film Festival on March 22nd. The screening will be at 2:00 PM at the Village East Cinemas located at 181 2nd Avenue at 12th Street. I will be there and will sneak in an internets celebrity or two. You can snag tickets over at nyfilmvideo.com. Peep the poster after the jump.
Tags: Roller Skating, The Rink
Posted by Trose | Filed under Interview, Magazines, Mixtapes, Music, Nuwz
My Dudes Ashy L Bowz are featured on High Times. The dynamic duo of Deeno Snuff & Triple X sat down with High Times to talk Music, Mixtapes & Marijuana. Like I told My dukes months ago look out for whoever we co sign cause they always do the damn thing! "You let the blind lead the blind but my vision is fine!". Here's an excerpt
Their independently distributed debut album No Lotion was released on Ash Wednesday of 2008 and features comedian Donnell Rawlings from Chappelle's Show – better known as Ashy Larry. The disc has received national attention as well as nominations for the Underground Music Awards, Hollywood Music Awards, Unsigned and Independent Music Awards. No Lotion was also named a finalist for Rap Album of the Year in the Independent Music Awards.
Read the full story Here. Check out there latest mixtape after the jump
Tags: Ashy L'Bowz, Eflat, High Times, mixtape, PMD
Posted by Goat | Filed under Concert, Events, Movies / T.V., Music
Even though I'm not ready to start my daily posting again I had to come out fo this one. Monday night my dude Melo X tore down the Blender Theater. This was my first Melo X show and it was definitely a site to see. He ran through several songs off the classic (yea I said it) Mustafa's Renaissance. He even did the illest B.I.G. tribute during his set that was too ill. I usually hate when dudes do covers of other peoples songs (like the second act – shots fired yes) but B.I.G. would've definitely tipped his hat to the way he got the crowd to rock. If you don't have his mixtape you need to grab it now. Here he is performing Keep The Faith with the talented Jesse Boykins III. After the jump Melo performs "Treat Her Right". Big Ups King, you dun know!
Tags: ALIEN, GFCNY, Jesse Boykins III, Melo-X
Posted by CarterG | Filed under Leaks, Music
I know I should wait but fuck it. Here's the track for the Vanglorious video teaser I posted earlier. Man listen I can't make it to Dubai yet but Imma try my hand at Vegas!
"You Stay On My Mind" – Swizz Beatz
Tags: Full Surface, Swizz Beatz
Posted by Goat | Filed under Leaks, Music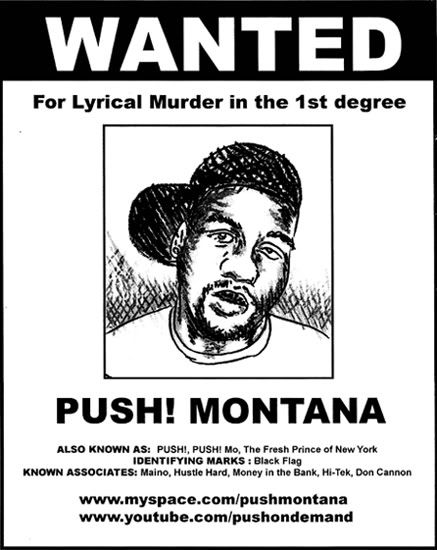 The homie PUSH! Montana shot this to me today and I feel like moving a bird. Ha!
Tags: PUSH! Montana
Posted by CarterG | Filed under Movies / T.V., Music
PLEASE READ BEFORE PRESSING PLAY. APPRECIATE IT DUKES
So I'm still on super hiatus from the blogsphere. To tell you the truth I'm not that stimulated these days. I still comment all over the web and am a reader to all things Hip Hop. I just can't come to post the same ishh we'll find on every other blog. So and so drops a song, such and such has a beef. Well I'm writing, collaborating and getting this show and a bunch of ishh together. In the meantime I'll be on my twitter ishh and I'll see you at the events and listening sessions. Now for the reason I even decided to post. Here's a sneak peak to Swizzy's new Ballerific video shot entirely in Dubai. I'm talking 6 star hotels, Roll Royce EX Drop Head Coupes, Sand, Gold Faucets & More.
Back to my Gold Jet Ski, peace Dukes