Posted by Goat | Filed under Concert, Events, F**kery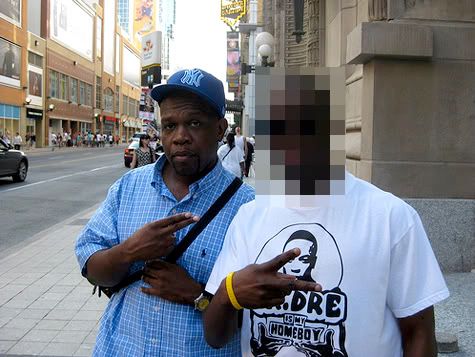 I've recently taken several hiatus from the Duke. Most being business related, this one in particular was more leisure. I headed to T-Dot to enjoy the Caribana festivities courtesy of Maxamus Ent. Me and my nuccas zipped there for a weekend. As I hit the street with my dude we bumped into no other than Jeru The Damaja. So the conversation went something like this.
Goat: So where the party at tonight?
Jeru: Yo I'm playing at this spot called *****
Goat: Word, what's the vibe like?
Jeru: Nothin' but Filipino and Black mixed shorties
Goat: Nice
Jeru: And no dudes gonna be there like that, especially out of towners.
So yea Jeru wanted me and my dude to make these damys "Come Clean". Didn't get to hit up the party but we bumped back into each other at the main event starring The Boss (C.O.)

Ross taking a pull from a hard day of playing "The Boss".

My dude Little x. Crazy mini story: So Zo Pound was upset about the bar closing at 2am (Canada Laws) and tried to intimidate him to open it back up.

Yea, it was like 4,000+++ in the spot.

Canadian Exports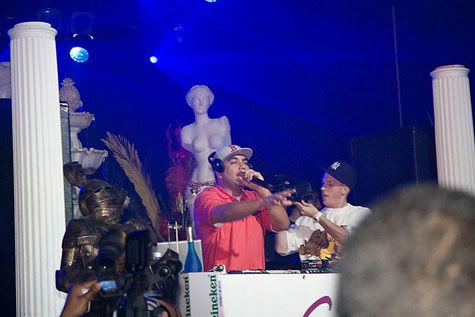 Cipha did some crazy ass monologue about the ladies being hoes then flipped it on the dudes.

More exports…

Keep them glasses on Ross.
Video

Party Footage
Ross Talking Bout X Making A Movie And X Is Directing It…It's A Lie I Asked X.
Tags: Canada, Caribana, Maxamus Ent., Rick Ross, Toronto
One Response to "How I Spent My Summer…Errr Weekend"
Let The Hate Continue! » Blog Archive » Shots Fired At Rick Ross Show In Brooklyn Says:
September 30th, 2008 at 11:49 am

[...] on Saturday night in East Flatbush. Glad I crossed the border for the safe performance in T-Dot. Funny part is after the shots fired Ross' screams "Trilla!!!". [...]
Leave a Reply