Posted by Goat | Filed under Leaks, Mixtapes, Music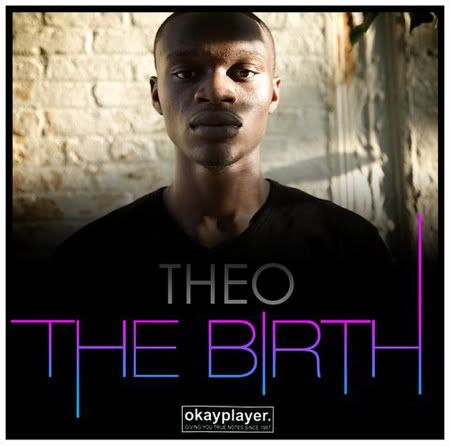 Lot's of buzz has been brewing about this dude and mixtape. Let's take this journey together my Dukes and chat about it in the comments section. Track list and link after the jump.
Via Okayplayer

01. Hi (Prod. Judah)
02. There's Meaning (Prod. Kris Fame)
03. Good Morning America (Prod. Young E)
04. Sweetest Language (Prod. Profit)
05. T.V Show (My Life) (Prod. Brose)
06. Hola Oh Theo (Prod. Young E)
07. Star Struck
08. Lightwork
09. Dillagence
10. Ridin Down The Freeway
11. Keep Doing Your Thing Feat. Skyzoo (Prod. Kris Fame)
12. Grammy Family (Gramphone Flow)
13. Creator
14. High Life Feat. J.A.M.E.S Watts (Prod. Santo Angelo)
15. Somethin For Me
16. iDream (Prod. Brose)
17. Theo till Infinity (Prod. Austin White)
Download Okay Player Presents Theo: The Birth
Tags: Okayplayer, Theo
One Response to "Okayplayer Presents Theo: The Birth"
theshoelace Says:
August 9th, 2008 at 8:01 pm

Thanks for the support big homie!
Leave a Reply