Posted by Goat | Filed under Albums, Leaks, Music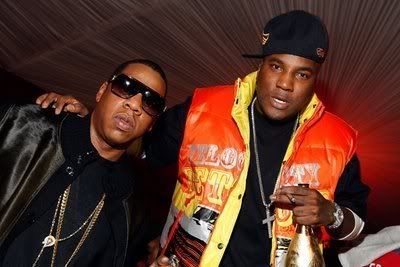 I waited and waited for the dirty and all praises due to Young Sav for it. Too bad Hov's verse was a throw away minus the shot at Prodigy. Kanye where you at?

Download Put On Remix – Young Jeezy Feat. Jay-Z
Tags: CTE, Def Jam, Jay-Z, The Recession, Young Jeezy
One Response to ""Put On" Remix – Young Jeezy Feat. Jay-Z"
S. Mathis Says:
July 30th, 2008 at 4:43 pm

Why am I becoming brain washed by this guy. I can't believe that I am actually considering signing onto AIM and begging GOAT for a link to the 'RECESSION' album*, lol . Has JEEZY improved that much? Oh and HOVA killed this one and probably didnt even take his jacket off in the studio. This one sounds like a quickie right before lunch.

*Just kidding F.B.I., R.I.A.A, Def Jam, N.Y.P.D and all others monitoring. I buy all my albums legally in store or from ITUNES.
Leave a Reply