Posted by Goat | Filed under Beef, F**kery, Interview, Movies / T.V.
The Boss responds via youtube to allegations accompanied by what appears to be a doctored image of Rick Ross as a corrections officer. He even takes it further and goes at Trick Daddy for putting out that allegation. Photo after the jump.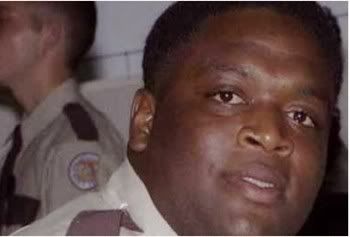 Tags: Def Jam, Poe Boy, Rick Ross, Trick Daddy
3 Responses to "Rick Ross On Corrections Officer Rumors"
Represenitive of the South Says:
July 16th, 2008 at 10:34 am

Rick Ross is a good rapper…but he is as fake as 90% of the rappers in the game. I don't know why this is a surprise; his name is "Rick Ross".

reeCe Says:
July 16th, 2008 at 1:46 pm

I always knew he was frontin

Dobbie Says:
August 1st, 2008 at 10:30 am

I live in Dade County and I used to beat up Rick Ross and the whole Carol City Cartel on the way to a fight!
Leave a Reply