Posted by Goat | Filed under Leaks, Mixtapes, Movies / T.V., Music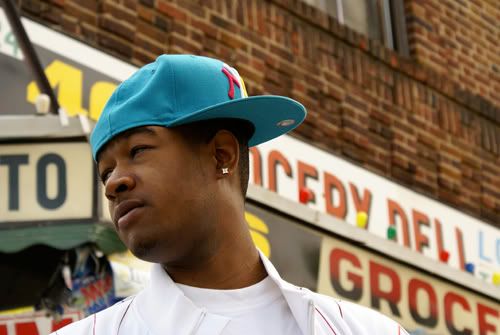 Coming from Flatbush I have witnessed the lack of new Emcees to reach the next level firsthand. Meet MECH™, one of my hometown's new heroes. For the past few years he has established his name in his area as one of the ones to watch.

The Brooklynite trail blazed his way onto the scene by doing it the only way one can these days, the indie route. He released two street videos (46 & Church / The Revolution) which elevated his buzz even more within the underground. Street Muzik was a "Hood Classic" as the young emcee would put it. After taking a hiatus from the game, MECH™ is ready to take on Hip Hop. "I just wanna say 'hi' to the haters, 'remember me…and if not let me reintroduce myself." His confidence is not new to the game but it has merit. Also known as the "2008 Fonzaerlli" his cool will be one of his defining characteristics. "And no ones cooler than the Fonz."
46 & Church

The Revolution

A Few Tracks
46 & Church | Find Me Feat. Hiroller & Analyze | Watching The Cars
2 Responses to "Get To Know MECH™"
S. Mathis Says:
April 23rd, 2008 at 11:30 am

A tad late on this one but I didnt want to comment before I got a chance to listen – 1) '46&Church' – Nice beat. Where do I know it from? MECH has a nice flow/good rap voice, though nothing distinctive about it (be careful u dont get lost/confused amongst the trash out there. Somebody I dont think that Marty Markowitz won't be adding this one to the WelcomeToBrooklyn site. I'll make sure to lock my doors next I'm riding by the GOAT. 2) 'Watching The Cars' – good beat/BETTER flow – Nice breezy song for summer stunting though it may have a unintended effect (depression) since I gotta listen to it in the creaky Altima.

S. Mathis Says:
April 23rd, 2008 at 11:32 am

Bad grammar above as a result of multitasking while I type. Anyway, didnt listen to the song feat HiRoller since I wanted to hear MECH (never heard him b-4).
Leave a Reply