Posted by Goat | Filed under Concert, Nuwz
So it's one of those situations where you miss out on something big that goes on in your hometown. No one told me or my Cheese about this. My cuz comes in and gloats about a Cool kids concert with DJ A-Trak at the Museum of Natural History to promote the new "One Step Beyond" Monthly Series presented by Flavorpill on Friday night.
Well I for one am not a big fan of the Cool Kids but the ambiance of a good time would've put me in a mood to be a temporary fan. And when you add some good art with wine or beer it's on and poppin'. The party turned way up when Kanye snuck in for an impromptu mini concert. I'm already pissed I missed Jay and NaS uniting on stage, not to mention the Billion Dollar performance (T.I., Jay-z, Kanye, 50 Cent, Diddy & Swizz Beatz) at Scream Fest. Ah well, I'm sure there will be more surprises. At the end of the day this is the Empire State.

Kanye performs Stronger at the Museum of Natural History NYC
Can't Tell Me Nothin rocks the crowd

Good Life from an awky angle
Much props to Brooklyn Vegan for the photos.


DJ A-Trak & Kid Sister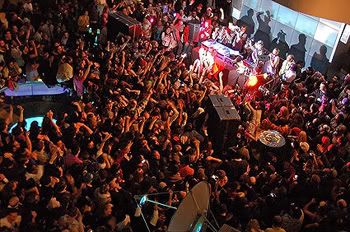 Crowd Control

Kids Sister & Ye' perform Pro Nails

Kanye Moves The Crowd
10 Responses to "Kanye Takes Over The Museum…Naturally"
Leave a Reply