Posted by Goat | Filed under Movies / T.V., Reviews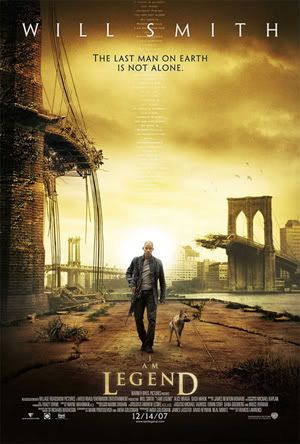 I Am Legend
Review by Benedict Hadley
Ill start off by saying that I am not a Will Smith fan. Fan being short for Fanatic and I'm no fanatic. That being said , I do really like the guy, what he stands for and the films he makes.Yet for some reason, in the past Mr. Smith's role choices were not so much about his acting but the FX team creating the numerous explosions of cars, buildings, people, robots, buildings (oh wait I said that already) and aliens…but in recent years the man has done some stellar work. He made every dude with a tailor and some cuff links think they can bag any woman in "Hitch", he befriended and fought off some ill CGI villains in "I Robot", gave what I think was his finest moment to date in Michael Mann's abstract but amazing "Ali" and managed to not only cut the check for his little man but to also give a kick ass Oscar nominated performance in "The Pursuit of Happyness". So all in all the man done came up. His movies have become more about the character (I Robot, Ali, The Pursuit etc.) than the events in the picture (Independence day, Men in Black 1 and 2 !!!). So, with all that said and done I sit here at 12am at Sony Theaters in Manhattan to see what is sure to be this this weekends number one hit "I am Legend". The film, directed by Francis Lawrence (Constantine) is the 5th adaptation to film of the book by author Ricahrd Matheson but just off the A-List team behind the 2007 version I'm sure this one will fair far better that previous versions of the film. Either way, the movie is about to start…I will let you all know how it turns out.
Soooooo Movie didn't begin yet but the trailers are epic. Jumper, Narnia etc…The Dark Night Trailer Dropped…"SELL-OFF!!!!"
Ok the movie is starting…Ill let you know how it goes. Epic. Its something you will want to see twice. When I saw the original teaser for I am Legend I was thoroughly impressed. But seeing FX and Mr. Smith is nothing new, so I wondered how they would go about telling the story of Dr. Arron Neville (Will Smith) a military doctor and the last survivor on Earth from the lethal KV virus. The virus as it turns out is the cure for cancer and we learn this in the first few minutes of the film in what is the start of one of the best opening sequences in recent memory. The director Francis Lawrence sheds bits of his signature style for a cleaner, more polished look than his music video days of old and opens the film with an impact that will stay in your memory for years. It's hard to really delve into the films story without revealing key points but I will try my best.
Dr.Neville is immune to the KV Virus. He spends his days with his German Shepard Sam and gathers food, hunts the wild game that now runs free in the baron city of New York and watches movies that he "rents" and returns from the local Tower Video. As the sun sets, his routine continues by heading back to his fortress like home where he continues his quest to develop a cure for the KV Virus. He does so because of the "Night Seekers", KV Virus Infected humans that roam the night, unable to see or even feel the light of day.
This is where the story becomes interesting as the film jumps between present day and the events that led NYC to become the waste land that it is in the film. You don't really expect story telling like this from a film of this size.
I tip my hat to Francis Lawrence for directing a film and telling a story that does not follow the straight and narrow line of block buster film making. In addition, Mr.Smiths performance develops itself into something so complex that you wonder why they marketed the film as a huge, zombie filled opus. It is, but thankfully its not at the same time. If you look closely you will find a film that is thought provoking and very relevant to the climate of the world we live in, filled with action and some great, polished, hyper realistic CGI, coupled with excellent performances from Smith I am Legend is what block busters should be like, enjoyable, entertaining films that don't forget that with all the wire frames and CGI you still have a job of story telling to do.
2 GUNS UP FOR I AM LEGEND.
Later this week…
Francis Ford Coppolas "Youth Without Youth"
10 Responses to "I Am Legend Review Duke Style"
Leave a Reply