Posted by Fresh | Filed under Movies / T.V., Music, Singles


Hip Hop is influencing everyone including our brothers & sisters from the motherland. Hip Hop ain't dead, it took an extended vacation.
Posted by Goat | Filed under Beef, Bullet Bullet!!!, F**kery, Movies / T.V., Racism
Lil' Wayne graces the new Boondocks as distant cousin to Huey & Riley. Not the funniest of the Boondocks but still worth the watch. Cedric The Entertainer also makes a guest appearance. And now folks the nuwz:
Big Boi raps a taste with VIBE to talk about his new solo lp.
Ballerina P is getting his blog on before hitting the pen. Who's gonna keep it up once he hit protective custody?
GZA says f*ck 50 Cent on stage and "You got alot of money and no talent muf*cka". He really coming at Curtis, lets see how this plays out…
Dj Drama explains the legal "drama" with his name.
Blu & Exile chat with illroots about Hip Hop, the record industry, and what have you.
Michael Vick sentenced to 23 months in prison, damn man I remember when dude was on cloud nine.
Looks like the jump out boys are gonna start giving Faboolous some grief.
Posted by Goat | Filed under F**kery, Movies / T.V.
Our dudes from The Real bring another video to the world wide web. This time they play on the influence of using industry formulas to make it work. Peep the self righteous pmd plug. Gotta love it…and to Jeff you are the mean machine when it comes to partying!!!!.
Posted by Goat | Filed under Albums
The first Master P song I f*cked with in a long time. I'm not sure if Percy's trying to send a message with this video or get attention by contraversy.
Posted by Goat | Filed under Movies / T.V., Music
New AZ off the new album The Undeniable coming soon. This track is produced by Large Professor and feature the Ghost.
Posted by Fresh | Filed under Junk, Movies / T.V.


If you have been living under a rock for a while and didn't see the last issue of King Magazine. Angel Lola Luv graced the cover had a very nice spread inside too.Yes the is the girl that has been thrown into the rumor mill with the fake body stories. Well, watch this video from her King Mag spread and you be the judge.
Posted by Goat | Filed under Leaks, Music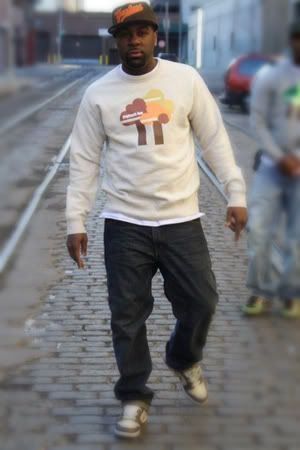 Brooklyn Emcee Hiroller is one of the next emcees to blow in New York. His mixtape Second To None was one of '07′s breakthrough street LP's. The title track gets more infectious with each listen. Be sure to look out for more tracks from him in the '08.