Posted by Goat | Filed under Beef, F**kery, Interview, Nuwz, WTF?
Any true die hard Cam Fan can remember the shouts "sixx figga" in the background of some of his biggest tracks. That's the name of Darrell "Digga" Branch's Sixx Figga Entertainment. He speaks to HHNLive about being the owner of Diplomat Records and the Logo. Guess Jimmy had hindsight and decided to start Byrdgang. He calls Cam selfish and touches recording the song with Beyonce. A card he tried to use against Hov, but Digga shed a different side to it:
"Cam wasn't even in the studio when Beyonce recorded that song…Cam did write that hook about slingin' crack but Beyonce got a check and she muscled Cam out of some of his publishing and writer credits too. So, who really won? That's the part he doesn't want to tell you."
UPDATE: After a little digging at the US Trademark Offices we see that they both have Diplomat logos on file and that they are slightly different. Cam'Ron who owns and uses his version of the logo could win in a court of law if Digga tried to sue. I'm sure Digga's lawyer game is not on par with Killa's. Compare for yourself and take heed all future and current entrepreneurs HAVE YOUR PAPERWORK STRAIGHT!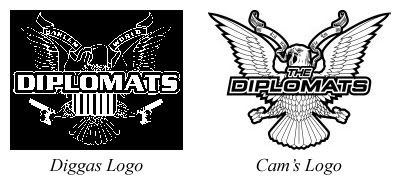 Sounds to me like he go Debo'd out of the whole thing. Why is he speaking to a magazine, get your lawyer to handle it doggie…Dipset Bitch!
18 Responses to "Who Really Owns Dipset?!?!!?"
Leave a Reply