Posted by Goat | Filed under Albums, Reviews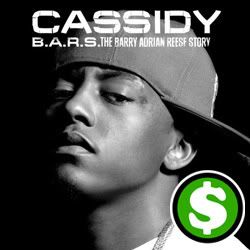 01. Intro (B.A.R.S vs. Da Hustla)
02. My Drink N' My 2 Step Feat. Swizz Beatz
03. Where My N****s At
04. I Will Never Tell (Uh Uh)
05. I Pray Feat. Shizlansky
06. Innocent
07. Cash Rulez Feat. Bone Thugs-N-Harmony & Eve
08. Leanin' On The Lord Feat. Angie Stone
09. Damn I Miss The Game
10. Done 4 Me
11. I Get My Paper Feat. Swizz Beatz
12. Take A Trip Feat. Mashonda
13. Celebrate Feat. John Legend
14. All By Myself
I've always been skeptical of Cassidy since his debut. I'm not old but I tired of the mixtape rapper. Seeing dude come from that lane made me biased from the beginning. Since his debut he's released two LP's, and got caught up in some serious shit. His music and real life shared lanes with Cassidy on trial for murder. He also came close to death in serious a car accident. All in all Cassidy pulled trough and is set to release B.A.R.S. today. The Barry Adrian Reese Story takes you into the life (whether real or surreal) of the artist known as Cassidy.
The Intro (B.A.R.S vs. Da Hustla) begins with a face off. B.A.R.S. & Da Hustla get into a lyrical battle. Honestly this track is crazy. When it comes to battles like this anything goes. Cassidy strips himself down and pulls cards on both sides. It really leaves and rap foes with nothing to say. My Drink & My 2 Step grew on me over time. The lyrics are there and Swizzys repetitive doesn't bother me anymore. On Where My Niggas At the guitar riffs, snares, and bass line set up a track thats filled with 187. If this was really my cup of tea I'm sure I'll be open. The track is strong but I'm skeptical in believing the songs content.
Will Never Tell has Cass proclaiming that snitching is a big no. He goes as far to say he wouldn't tell if he seen Bin Laden buying a missile. He begins to slip into the category I can't stand. I Pray features someone name Shizlanksy. A tale of trying to climb out this barrel of crabs. Song sounds cool overall, not a skipper. Innocent has Cassidy talking to his fans, foes, and anyone who wants to hear about his situation. I tip my hat to the way he took his life situation and turned it around. He goes into a monologue and speaks directly to the family of his former friend.
Cash Rulez is the Full Surface full roster spitting. Everyone who does a track with Bone Thugs spits that same kinda fast flow. The track is alright but it doesn't do much for me. Leanin' on the Lord has Cass taking it as spiritual as a thug could. He tells a few tales of struggle and pain. It shows the growth in some of his writing. Damn I Miss The Game is the cry most real rap lovers have. The funny part about this is half of Cassidy album has the "dumb rap" in it. I guess that's the struggle emcees have.
Done For Me has Cassidy talking to The Maker. The song is rather personal and I respect the track. Most labels will tell you no one wants to hear that (kudos Swizz). I Get My Paper is a cool track minus the annoying hook. I'm guessing Take A Trip is for the ladies. Mashonda provides the vocals while Cass talks to his fans. Not really meant for me so no bias here. John Legend accompanies Cass on Celebrate. This song is a song that I wouldn't expect from Cassidy. He declared his old style is dead and he's grown. All By Myself has Cassidy serving as producer and artist. The songs subject and title differs. He proclaims he needs no one else except God.
I am actually interested in where Cassidy plans to take his career. I didn't like all the songs on the album but most shined through. I'm sure his fan base will love this LP and proclaim it to be a master piece. I can honestly say I'd buy this album. Hopefully the next one is more for me.
12 Responses to "B.A.R.S.
The Barry Adrian Reese Story – Cassidy"
Leave a Reply