Posted by Goat | Filed under Leaks, Music
Here's another track off Public Enemy Number 1 Mixtape that drops tomorrow. This is more the Killa Cam I was waiting for.
Posted by Goat | Filed under Mixtapes, Music
Heaven's Fallout by Mickey Factz is here ya'll. My GFC dudes giving you another goody for the year. Click here to download and discuss. Review sure to follow…
Posted by Goat | Filed under Movies / T.V.
Dave Chappelle doing stand up in Merry Ol' England.
OnSmash you crazy for this one!
Posted by Goat | Filed under Concert, Movies / T.V., Music
Here's footage from Mos Def performing in Paris at Elysée Montmartre in September. My dude put on a ill ass show. Can't wait for him to touch NYC again. Hi-Res Full Length Mos Def performance here. Enjoy show my Dukes!
M.O.P. performance inside post
Posted by Goat | Filed under Movies / T.V., Music
Here's Hov performing Fallin' on VH1 Story Tellers….Discuss
Posted by Goat | Filed under Beef, Bullet Bullet!!!, F**kery, Nuwz
Good Tuesday ya'll, kinda been slipping but stay posted today cause I have a few goodies for you. But first things first; Here's a track off Saul Williams new album The Inevitable Rise & Liberation of Niggytardust!. The track Niggytardust has a few not so subliminal shots at the rappers who dumb us down. One direct bullet is aimed at Curtis. And Now Folks The Nuwz:
Jay-z on pace to stump the original culture stealer for most number 1 albums.
Diddy cleared of assault charges, uh oh Steve time to run for your life.
Christian Coalition is praying for 50′s demise. Onward Christian Soldiers!!!
You too can learn all the lyrics to American Gangster thanx to Nation.
Dame thinks Big Brother sounds like a sneak diss record. This dude's salty.
Man arrested and charged with hanging noose on Tupac's statue.
Peep the Ghostface Doll with the Kung Fu Grip!.
Smarteupnas got the teaser for the new season of The Wire.
Posted by Goat | Filed under Interview, Movies / T.V.
Here's footage of Hov chilling getting ready for a live performance. Man that album is growing on me…yikes
Posted by Goat | Filed under Albums, Reviews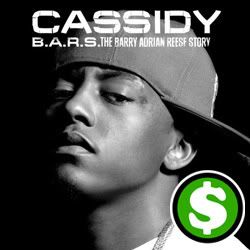 01. Intro (B.A.R.S vs. Da Hustla)
02. My Drink N' My 2 Step Feat. Swizz Beatz
03. Where My N****s At
04. I Will Never Tell (Uh Uh)
05. I Pray Feat. Shizlansky
06. Innocent
07. Cash Rulez Feat. Bone Thugs-N-Harmony & Eve
08. Leanin' On The Lord Feat. Angie Stone
09. Damn I Miss The Game
10. Done 4 Me
11. I Get My Paper Feat. Swizz Beatz
12. Take A Trip Feat. Mashonda
13. Celebrate Feat. John Legend
14. All By Myself
I've always been skeptical of Cassidy since his debut. I'm not old but I tired of the mixtape rapper. Seeing dude come from that lane made me biased from the beginning. Since his debut he's released two LP's, and got caught up in some serious shit. His music and real life shared lanes with Cassidy on trial for murder. He also came close to death in serious a car accident. All in all Cassidy pulled trough and is set to release B.A.R.S. today. The Barry Adrian Reese Story takes you into the life (whether real or surreal) of the artist known as Cassidy.
Posted by Goat | Filed under Albums, Movies / T.V., Music, Reviews
01. Intro
02. Pray
03. American Dreamin'
04. Hello Brooklyn 2.0 Feat. Lil' Wayne
05. No Hook
06. Roc Boys (And The Winner Is)
07. Sweet
08. I Know
09. Party Life
10. Ignorant Sh*t Feat. Beanie Sigel
11. Say Hello
12. Success Feat. NaS
13. Fallin'
14. Blue Magic Feat. Pharrell
15. American Gangster
The massive bootlegging continues to cripple the music scene. Online downloads and file sharing has even trickled over the movie biz. Two weeks ago a movie suffered the same fate as Hov's volume three. The only difference is that no on got shanked. This same movie sparked the inspiration for Sean Carters new album American Gangster.
Posted by Goat | Filed under Movies / T.V., Music
Oh Sh*t…In Stores Now
Related News: Young Hov from the video speaks to SOHH