Posted by Fresh | Filed under Beef, Bullet Bullet!!!, Interview, Leaks, Music, Nuwz, WTF?
First, let us start off with Prick Of The Day…vvv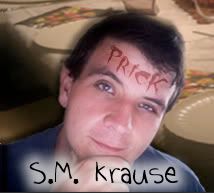 This moron, named S.M. Krause had the nerve to comment in our last Daily B.S., telling us to change the name of the section because his loyal fans are being confused. He's just mad because his "fans" aren't loyal and they are followers of the PMD Movement! Go to his crappy site and leave a comment or two and tell him PMD sent you. And now The Nuwz…
Peep Puff getting papers served to him over the assault on Steve Acevedo.
50 Cent writes about his life in a new book. He'll be signing copies of 50 x 50 today at 5 p.m. at Barnes & Noble, 4 Astor Place, (212) 420-1322. The Daily News has more info.
How do they keep getting record deals, Terror Squad signs with KOCH Records. Read for more details.
Rumors about The LOX being on Def Jam, slap whoever said it because they are wrong. The truth!
More 50 News: He speaks on music with Akon, G-Unit updates, new album, and reconciliation with Lil' Kim. Go here for pics from the music set.
21 Responses to "Daily B.S. 10/23/07"
Leave a Reply