Posted by Goat | Filed under F**kery, Nuwz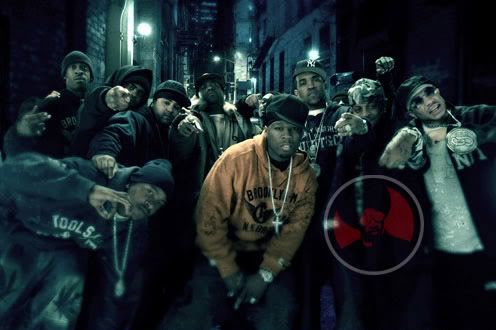 Guess Papa Iovine forcing Curtis to make his quota. Damn, Son Doolah movements a gwan. More at XXL
Shoot To Kill in stores December 18th
Photo Credit: Justin Francis
Posted by Goat | Filed under Leaks, Music
Here at PMD it's not all about the mainstream scene. Ever so often I will post a Hometown Heroe. It could be from here, it could be from Japan…who knows. Hailing from Flatbush (Bomboclaat!!!) Brooklyn comes Crucial. An unsigned emcee with a knack for creative wordplay and punchlines. Check out his music and post some comments.
Download & Discuss
Black People | What Could It Be | Lyrical Mascott (Freestyle) | Razed Inda 80′s (Freestyle) | I Cum Thru (Freestyle)
Posted by Goat | Filed under Music
Quiet Ink CEO, Producer and Emcee Sacario burst onto the Hip Hop scene with his record "Live Big" (Car Keys). In 2001 he inked a 5 album $4.4M joint recording contract with radio personality Angie Martinez and Sylvia Rhone, former CEO of Elektra Entertainment. He wrote and featured on the hit record "If I Could Go". Also serving as executive producer to the album it has sold 500,000 copies. After a hiatus from the music scene Sacarios back with a few tracks for us to vibe to.
Download & Discuss
Grey Goose | Do It To Me | You Make Me Sick
Posted by Goat | Filed under Movies / T.V., Music
Peep Obies new video which pays homage to the show Entourage with the whip appeal.
Courtesy of My Connect
Posted by Goat | Filed under Beef, Bullet Bullet!!!, Bumboclaat, Documentaries, F**kery, Interview, Movies / T.V., Smh
Now I dunno if all of this is real but I can say its all crazy. This dvd is bound to set us back another 50 years. Let me f*ck up my grammar a little more: "Dude is bucking like a muf*$@%, N*ggaz is robbin' N*ggaz and sh*t straight hard body work".
Here's the myspace link for more info
Snitch Clip inside post
Posted by Goat | Filed under Movies / T.V., Music
Here's the new video from Smif N Wessun off there new album. Stay tuned for a full interview with the Brooklyn duo.
Posted by Goat | Filed under Albums, Movies / T.V., Music, Reviews
01. My World Is
02. The Narrow Path
03. So(ul) Amazin'
04. Juicen' Dranks Feat. Taraach
05. In Remembrance of Me
06. Blu Cola Workers
07. Dancing In the Rain
08. First Things First Feat. Miguel Jontel
09. No Greater Love
10. Show Me the Good Life Feat. Aloe Blacc & Joseph
12. Cold Hearted Feat. Miguel Jontel
13. The World Is (Below the Heavens)
14. You Are Now In the Clouds With (The Koochie Monstas)
I know this album has been out since August but it needs light. It seems like the spirit of Pharcyde has been bred into West Coast representer Blu. Below The Heavens the album has a mid nineties feel. Teamed with his producer (hence Blu & Exile) they created an album I'd expect to come from any borough NYC.
Posted by Fresh | Filed under Leaks, Music, Singles


I tried to find a picture of The Dream and this is what I got…I like it! A real classic. Here are a couple of new tracks that just surfaced on the internet. So partake and enjoy!
The Dream
Shawty Is A Ten (Remix) Feat. R. Kelly
Kanye West
A Million & One Questions Freestyle
Playaz Circle
Duffle Bag Boy (Remix) Feat. Lil' Wayne, Juelz & Birdman
Jim Jones
Bury Me In My Gucci's Feat. Stack Bundles & Max B
Tru Life
Tears Feat. Bobby Valentino (Produced by Polo Da Don)
Posted by Trose | Filed under Beef, F**kery, Interview, Movies / T.V., Racism, Smh, WTF?

Chuck Creekmur from AHH and Felicia Palmer from SOHH discuss with John Gibson and some random woman.