Posted by Goat | Filed under Albums, Reviews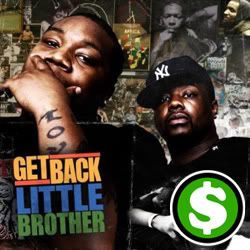 01. Sirens feat. Carlitta
02. Can't Win For Losing
03. Breakin My Heart Feat. Lil' Wayne
04. Good Clothes
05. After the Party Feat. Carlitta Durand
06. ExtraHard
07. Step It Up Feat. Dion
08. Two Step Blues Feat. Darien Brockington
09. That Ain't Love Feat. Jozeemo
10. Dreams
11. When Everything Is New
Little Brother was my sh*t in 2004. The listening and The Chitlin Circuit got crazy spins on my itunes. Songs like Speed, Groupie, and I See Now showed the strength of the trio. With the release of Minstrel Show I lost the feeling that I felt on there indie albums. After the album "tanked" 9th Wonder left the group to produce for other artists. From an industry stand point this spelled the end for LB. Phone and Big Pooh kept it trucking and continued recording. I even caught an ill show with my dude Mel at Pratt. The personalities of Pooh and Phonte now came to life for me. My faith in LB was restored. The new album Getback is here. Now signed to an indie again, lets see if the duo can regain the feel that made me gravitate to them.
The first track Sirens has Pooh and Phonte explaining whats been going on with the group. Both emcees turn there story into rhymes effortlessly. Carlitta Durand kills the hook, this is a strong start. The track ends with a clip from The Wire when Marlo tells the security guard "You want it one way, but its the other way" – genius. Can't win for losing has Phonte zoning speaking on the ill of coming up in the rap game. Losing friends, learning who's real from fake and "the growth". Funny ass Phonte sets the intro for Breaking My Heart. A tale of how men cheat but not for love, just the nut. The ills of being a man and remaining faithful. "A Womans life is love, A Mans love is life"…how real is that. Lil' Wayne lays a verse but it's not memorable.
"Prada Jeans 300 Dollars, Gucci Slippers 500 Dollars, Spending all you money to make these white folks rich…pricless". This interlude sets the tone for the track Good Clothes. Touching on the hook up, free shit, over priced apparel we all die for. Song is hot and its not about busting guns or sex. After the party is another banger. Its about the end of the night when you're trying to take home a hottie for a one night stand. A song most can relate to cause frankly not everyone can go to the penthouse after and drink bottles of Veuve Cliqout. Extra Hard is arguably the weakest song on the album. Its a cool track but doesn't really do much for me.
Step It Up is real talk. A song about maturing and learning that its not about chasing the kitty kat. The growth between a man and a woman when it comes to relationships. Two Step Blues is about going out and partying for real. You know some of the best parties aint VIP. Its the house parties, the backyard ones where its just about being fresh and having a good time. That Aint Love is a study on the meaning. A breakdown of what it really means. Phonte touches on how people treat you when you get "famous". Pooh touches on the distance and fuckery he goes through with the people he loves. Jozeemo gives the view from an inmate locked away trying to understandwhere the "Love" went while incarcerated.
Dreams is something we all have. The things in life that make it worth it. Pooh speaks on leaving school behind. Even though that was his mothers dream for him that wasn't him. Phonte touches on the growth of a man through his music. He realizes that he'd rather speak from the heart than sacrifice his beliefs to make a buck. When Everything Is New is the closing track on the album. It took me a few times to get to this song cause I had so many favorites. Although its the last track Pooh lets people know this is a new beginning. Spitting at a steady pace he keeps it going. Phonte comes off calm and relaxed speaking on all thats happened to get him here.
In closing, everyone who reads this should have a receipt for this album. It's worth your purchase because its good music you can relate to. I know the surreal is cool buts it rare that you find the real. Sh*t, Little Brother was so confident that they leaked it and said if you like it go cop it. I know I will.
4 Responses to "Get Back – Little Brother"
Leave a Reply