Posted by Trose | Filed under Concert, Movies / T.V., Music, Throwback

This concert was filled with a lot of classic music. EPMD killed it with some classic tracks. They showed a lot of the youngsters that the music they have done has been getting recycled in the industry. They also dropped in the audiences ear that a new album Legal Business will hit stores soon.
Slick Rick came out and and clearly stated the old school is where its at and the crowd gave him the necessary energy for him to do his signature dance moves. NaS hit the staged and put in a strong 40min; and he was only suppose to do 20min. NaS also announced that his new album will be called Nigga something very controversial but look out for talks about that. NaS also takes a shot at 50. Enjoy the videos!
For all the footage visit PMD tv
Posted by Goat | Filed under Beef, F**kery, Movies / T.V., Music
First and foremost I gotta give props to wmdeez for this one. Had to share some light time with you on this one. Here's Luda performing at Velvet Room in ATL at the 07′ Welcome To Atlanta Party. Peep the comedy when Luda spits his verse from the I Get Money Remix. All subliminal shots are aimed at T.I., but he didn't know Clifford was in the building. At -2:37 T.I. pops up on stage stealing Luda's light. It get's even funnier when T.I. takes the mic (-1:43) from Luda.
Posted by Goat | Filed under Albums, Music, re:VERSal, Singles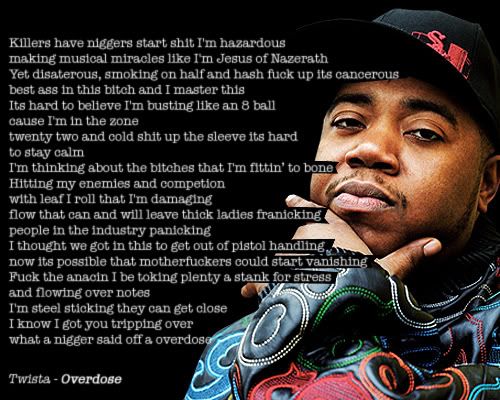 I was probably the only kid in New York who bumped Twista before Kanye revived his career. The year was 1996 and the 4 train from Utica to 59th had me in the zone.This fast spitting dude from the Chi was much different from my first introduction to fast rapping (Bizzy Bone). Twista was able to fit hundreds of words into one sentence (exaggeration I know) but you would be able to understand it, you just couldn't repeat it. Overdose was one of the illest songs I've ever heard. An untrained ear would have to run this one over and over to get a full dose of what Twista was pumping.
Posted by Goat | Filed under F**kery, More Fyah!!!, Nuwz
So the more we go down the Rabbit Hole the more bullsh*t we find. In Paris, Texas, last year, a 14-year-old White girl burns down her family's home. Her punishment? Probation. In the same town three months later, a 15-year-old Black girl, Shaquanda Cotton, is sentenced to seven years in prison for pushing a hall monitor at her high school. Shaquanda had no prior arrest record and the hall monitor, a 58 year old woman wasn't seriously injured. Now I am not saying that she should not be punished but compare the incident and you can clearly see the bullshit.
Here's a link to Shaquanda's Site. Pass the information on so that we can bring attention to this like the Jena 6.
Posted by Goat | Filed under F**kery, Nuwz
I'm not a big fan of Barry "Cassidy" Reese when it comes to music. I mean dude can spit but really theres no creativity from dude. I did however feel his statements he made about Lil' Wayne earlier this month. But now he's saying Hov isn't smart about coming out on the same day as him. Are you kidding me Barry, you get a few radio spins with an assist from Swizz and now you King Kong. Dude even compares the release to 50′s and Kanye's. Wait till' he catches a brick and we'll see if he shuts up.
Video of this f*ckery courtesy of Sohh
Posted by Goat | Filed under Albums, Reviews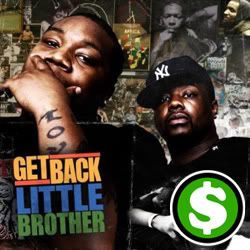 01. Sirens feat. Carlitta
02. Can't Win For Losing
03. Breakin My Heart Feat. Lil' Wayne
04. Good Clothes
05. After the Party Feat. Carlitta Durand
06. ExtraHard
07. Step It Up Feat. Dion
08. Two Step Blues Feat. Darien Brockington
09. That Ain't Love Feat. Jozeemo
10. Dreams
11. When Everything Is New
Little Brother was my sh*t in 2004. The listening and The Chitlin Circuit got crazy spins on my itunes. Songs like Speed, Groupie, and I See Now showed the strength of the trio. With the release of Minstrel Show I lost the feeling that I felt on there indie albums. After the album "tanked" 9th Wonder left the group to produce for other artists. From an industry stand point this spelled the end for LB. Phone and Big Pooh kept it trucking and continued recording. I even caught an ill show with my dude Mel at Pratt. The personalities of Pooh and Phonte now came to life for me. My faith in LB was restored. The new album Getback is here. Now signed to an indie again, lets see if the duo can regain the feel that made me gravitate to them.
Posted by Goat | Filed under F**kery, Interview, Junk, Movies / T.V.
Here's T.I. coming out of a Sushi Restaurant in LA the day before a few days before he was arrested in ATL. Eventhough he's known for his temper T.I. was very cool, calm , and collected. He speaks on American Gangster and his future endeavors. Damn dog I hope you get through this because you can actually rap. Just get rid of T.I.P., keep that dude on wax.
Props to the Blackarazzi
Part II inside post
Posted by Goat | Filed under Nuwz
Check out the stash T.I.P. (Not T.I.) had is a walk in safe at his crib in Atlanta. It was all good just a week ago. So the state denied him Bond til' Friday and then they might decide to let him post bail. If he's denied he'll have to sit up til' his trial date. That could be month's from now. Will keep you posted. And now the nuwz:
NaS decides to name his new album "NIGGA" . Read more at Sohh.
50 Cent employee pistol whips Connecticut club promoter. Damn..he just got a day in the state can the goonies chill?
"I've already baited Lil' Wayne to come on out so I can break his little neck". – 50 Cent tells King Magazine.
XXL got the review on VH1′s new Shows for Salt & Pepa and Irv Gotti. I missed both, anybody with a download link hit me up.
What the f*ck is Lil' Wayne doing on American Gangster. XXL has the offical album tracklisting.
Posted by Goat | Filed under Leaks, Music
Two new tracks from Memphis. Let me know if this is the one hit away Hov was talking about.